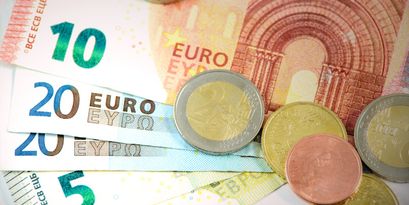 EUR/USD Seen at 1.0300 on Euro Recovery
EUR/USD is experiencing growing bullish momentum as the Euro's fightback lifts the rate above significant technical hurdles.
The Euro has appreciated 3.3% against the dollar in the last five days. As a result, the Euro is back above parity and the 50-Day Moving Average (DMA) at 1.0109.
The Euro's strength comes as the US dollar index (DXY) reverses 2.5% from a two-decade high of 110.78, to the current level of 108.00.
Some of the dollar's recent weakness follows the move lower in crude oil. West Texas Intermediate (WTI) crude fell to the lowest level since the start of the Ukraine conflict last week, following a surprise build in US oil stocks. As a result, US inflation expectations have fallen sharply. The latest survey from the Federal Reserve Bank of New York revealed consumers see inflation at 2.8% in three years versus 3.2% in July and 3.6% in June.
Later today (September 13), US Consumer Price Index (CPI) data for August will shed light on the current inflation situation. Analysts expect the gauge to show inflation remained stable at 0.3% (MoM), rising to 6.1% annually, from 5.9% in July.
A weaker than expected CPI could help the Euro strengthen further against the US dollar, on the basis that slower inflation relieves the pressure on the FOMC to tighten policy more than forecast. On the other hand, EUR/USD should come under pressure if inflation comes in above expectations.
Euro to Dollar Forecast
EUR/USD's recent price action is constructive. The pair has pulled clear from key support between 0.9860 and 1.000. A s result, the 50-DMA at 1.0109 (green) is in the rear-view, and now providing support.
The immediate outlook is bullish as long as the rate stays above the 50-DMA. In this event, an extension into the band of resistance between 1.0300 (August high) and the 100-DMA at 1.0333 (blue line) is likely. However, the outlook deteriorates on a close below the 50-DMA. Here, EUR/USD will likely trade back towards the psychological 1.0000 threshold.
EUR/USD Price Chart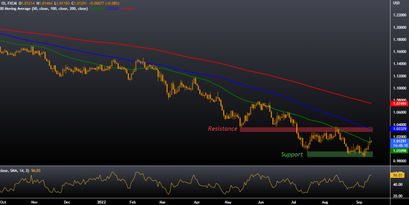 Elliot Laybourne
Elliott is a former investment banker with a 20 year career in the city of London. During this time he held senior roles at ABN Amro, Societe Generale, Marex Financial and Natixis bank, specialising in commodity derivatives and options market-making. During this time, Elliott's client list included Goldman Sachs, JP Morgan, Credit Suisse, Schroders Asset Management, and the Pennsylvania State Public School Employees Retirement System, amongst others. Today, he splits his time between Thailand and Dubai, from where he provides trading consultancy and business development services for family office and brokerage clientele.