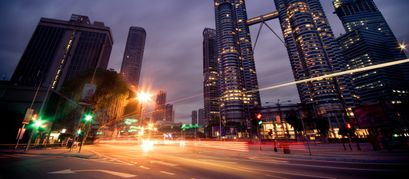 USD/MYR: Ringgit on Track for 24-year Low
USD/MYR is pushing towards the highest level since the Asian banking crisis as crude oil's decline weighs on the ringgit.
The Malaysian ringgit set a five-year low of 4.5055 against the US dollar on Monday, despite Malaysia's economic recovery.
High commodity prices have helped the ringgit outperform most regional peers this year. Despite MYR losing 8.0% versus the greenback in 2022, it's one of the best-performing ASEAN currencies, registering year-to-date gains against the Thai Baht and Japanese Yen.
The Federal Reserve's aggressive stance on inflation continues to push the dollar higher against the Malaysian ringgit. The dollar's recent gains follow the US labor market data earlier this month. The US jobs market continues to improve, allowing the FOMC to tighten rates aggressively to combat inflation. As such, Fed policy is diverging further from the Bank Negara Malaysia, which is raising rates at a slower pace.
Another factor weighing on the ringgit is the decline in oil prices. A surprising US inventory build last week pushed the price of West Texas Intermediate (WTI) crude oil to an 8-month low. Oil exports contribute to Malaysia's Gross Domestic Product (GDP). For that reason, weak oil prices could cause the Malaysian ringgit to depreciate further in the weeks ahead. Should that play out, traders will look to the 1998 low as a potential target.
US Dollar to Ringgit Forecast
The weekly price chart shows USD/MYR has cleared the 2020 high at 4.4480, and is approaching the 2017 high at 4.5380. What the chart doesn't show, is that above 4.5380, the next resistance is seen at the 1998 high of 4.7750.
Considering the differing central bank policies, and the US dollar's momentum, USD/MYR is likely to test the 2017 high soon. However, we should note the Relative Strength Index (RSI) reads 72, suggesting the rally is stretched. With that in mind, we can't rule out a sharp reversal at some stage. Nonetheless, the immediate outlook is bullish USD. That remains the case as long as USD/MYR is above the 2020 high. Therefore, we change our view to bearish on a weekly close below 4.4480.
USD/MYR Price Chart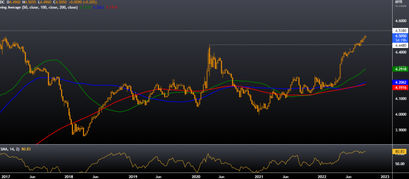 Elliot Laybourne
Elliott is a former investment banker with a 20 year career in the city of London. During this time he held senior roles at ABN Amro, Societe Generale, Marex Financial and Natixis bank, specialising in commodity derivatives and options market-making. During this time, Elliott's client list included Goldman Sachs, JP Morgan, Credit Suisse, Schroders Asset Management, and the Pennsylvania State Public School Employees Retirement System, amongst others. Today, he splits his time between Thailand and Dubai, from where he provides trading consultancy and business development services for family office and brokerage clientele.