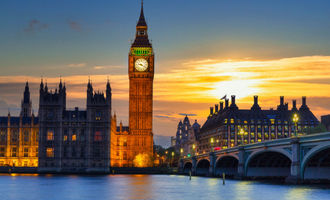 8 Out Of 10 Most Popular Tourist Attractions For Brits Based In The UK

Yasmin Purnell
The most popular tourist attraction amongst Brits at the end of 2022 was officially Niagara Falls, which marks the border between New York and Ontario, Canada. Perhaps even more surprising, however, is the fact that eight out of ten of the most popular attractions are based within the UK, and five out of the top ten are based in London.
Here, MoneyTransfers.com has broken down the current most popular tourist attractions by gender and age, plus the cheapest average accommodation cost for each popular tourist destination.
Top 10 Tourist Attractions Overall
The number one tourist attraction overall for Brits, as of the end of 2022, is Niagara Falls. In total, 82% of people surveyed have a positive opinion of the attraction, followed by the Natural History Museum (80%), and Big Ben (77%).
Out of the 10 most popular attractions, eight are located within the United Kingdom, and five are specifically based in London. Just two - Niagara Falls (Canada) and the Eiffel Tower (Paris, France) are international tourist attractions.
In fact, just 18 international tourist attractions make the top 50 most popular attractions, with the rest located within the United Kingdom - showing that for many British tourists, staycations are a very attractive option!
It seems highly possible that staycations may be on the cards for more Brits than ever in 2023, with the large majority of most popular tourist attractions amongst those surveyed being based right here in the UK itself. What many tourists may need to consider, however, is that the cost of accommodation in London, where many of the most popular tourist attractions are based, is more than double that of a night's stay for two in the most popular tourist attraction, Niagara Falls.

Jonathan Merry, CEO of MoneyTransfers.com
| | | | |
| --- | --- | --- | --- |
| Tourist Attractions | Popularity | Fame | Average Accommodation Cost (Couples) |
| Niagara Falls | 82% | 96% | £60 |
| Natural History Museum | 80% | 92% | £150 |
| Big Ben | 77% | 99% | £150 |
| Eiffel Tower | 76% | 98% | £90 |
| Edinburgh Castle | 75% | 93% | £100 (£85 - £150) |
| Royal Albert Hall | 72% | 97% | £150 |
| Science Museum | 71% | 90% | £150 |
| Stonehenge | 71% | 97% | £120 |
| Windsor Castle | 69% | 96% | £115 |
| British Museum | 69% | 91% | £150 |
Most Popular Tourist Attractions for Men vs Women
Both men and women have the same top five attractions in the ranking of tourist destinations with the highest positive opinion. However, men appreciate museums more in their ranking, with the Natural History museum and the British museum, both located in London, featuring in their top three.
Women on the other hand, rank attractions slightly higher than museums, with the Eiffel tower and Big Ben ranking in their top three alongside Niagara falls.
Most Popular Tourist Attractions (Men)
Attraction
Popularity
Fame
Niagara Falls
82%
94%
Natural History Museum
80%
95%
British Museum
75%
95%
Edinburgh Castle
74%
94%
Big Ben
74%
99%
Most Popular Tourist Attractions (Women)
Attraction
Popularity
Fame
Niagara Falls
83%
97%
Eiffel Tower
82%
97%
Big Ben
81%
99%
Natural History Museum
79%
89%
Edinburgh Castle
75%
92%
Generational Differences
The popularity of Niagara Falls lies most with Generation X, 82% of whom surveyed have a positive opinion of the famous waterfall. Millennials and Baby Boomers have finally found common ground in their top tourist attraction, ranking the Natural History Museum as number one (80% for Millennials, 86% for Baby Boomers).
Millennials
Generation X
Baby Boomers
Natural History Museum
80%
Niagara Falls
82%
Natural History Museum
86%
Edinburgh Castle
79%
Natural History Museum
76%
Niagara Falls
86%
Niagara Falls
78%
Royal Albert Halls
73%
York Minster
83%
International Attractions
Out of the top fifty most popular tourist attractions for Brits, just 36% are international attractions. Niagara Falls (Ontario, Canada/New York, USA), the Eiffel Tower (Paris, France), the Statue of Liberty (New York, USA), and the Colosseum (Rome, Italy), rank in the top 20 most popular tourist attractions - the rest are based in the UK.
The highest concentration of most popular international tourist attractions out of the top fifty are located in the United States, with Niagara Falls, the Statue of Liberty, Central Park in New York City, Universal Studios Florida, and the Golden Gate Bridge all featured.
Cheapest City Break for Top Tourist Attractions
Our experts found the average cost of an Airbnb stay for a couple in each of the top tourist attractions listed, and found that the top tourist attraction actually has the cheapest overall nightly cost, at an average of £60.
In contrast, London, home to the highest density of popular attractions, has an average nightly cost for 1 bedroom apartments of £150 per night!
Yasmin Purnell
Yasmin Purnell is a Content Writer and Editor for Moneytransfers.com. Yasmin has a wealth of experience writing across a range of topics within the personal finance, student, and business niche. Yasmin joined the team with the one main mission to provide accessible financial, career and business information and advice for all.