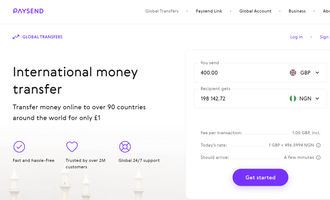 Paysend targets Chinese in the diaspora with its new Alipay partnership

Crispus Nyaga
Paysend, a three-year old start-up that is changing how people send money, has announced a new technology collaboration with Alipay. Alipay is one of the biggest online payment platform in China with more than 1.3 billion customers. It is now owned by Ant Financial, a company that is valued at more than $200 billion.
Paysend partnership with Alipay
Paysend is a licensed money transfer company that was started in 2017 by Abdul Abdulkerimov and Ronnie Millar to disrupt the payment industry. It was the first company to provide international card to card transfers. This helps to connect more than 12 cards from around the world.
To achieve that, the company has partnered with leading card providers like Mastercard, Visa, UnionPay, troy, verve, and MNP, among others.
In addition to money transfer, the company has launched additional products. It has Paysend Link, an app that allows people to request money. It has also launched Paysend Global Account, that enables people to hold, send, and spend money in a single app.
Paysend has experienced significant success in the past three years. It currently serves more than 1.2 million customers from around the world and has raised more than $33 million from investors. It has also expanded the number of countries it serves to more than 90 countries.
Paysend new partnership targets Chinese customers
Its new partnership with Alipay will help the company reach the millions of customers from China. This is a strategic move considering that there are more than 10 million Chinese nationals living abroad.
"Paysend's vision is using the most advanced technology to make payments faster and easier for millions of customers around the world. Working with Alipay, we aim to bring a new dimension of convenience and simplicity to the movement of money."
In the same statement, Ma Zhiguo, an executive at Alipay said:
"We are committed to working with partners such as Paysend, using innovative technologies to help global consumers gain access to inclusive financial services."
Are you in the process of sending money to another country? At MoneyTransfers, we can help you save money by showing you the transaction costs charged by hundreds of companies.
Crispus Nyaga
Crispus is a financial analyst with over 9 years in the industry. He covers the stock market, forex, equities, and commodities for some of the leading brands. He is also a passionate trader who operates his family account. Crispus lives in Nairobi with his wife and son.