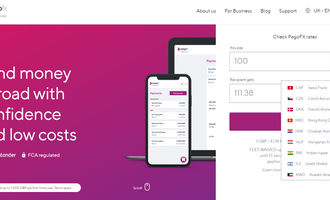 Santander's PagoFx launches money transfer service to India

Crispus Nyaga
PagoFx, a fast-growing international money transfer company owned by Santander, has added the Indian rupee as a supported currency.
PagoFx targets Indian customers
Santander, the fourth-biggest bank in Europe, launched PayFx product this April in its attempts to boost non-interest income. The company also wanted to compete with fast-growing European startups like TransferWise, WorldRemit, and OFX.
The product allows UK residents to send money to their friends and relatives internationally at a fixed fe of just 0.8% of the total funds.
In a statement today, the company said that it would start allowing UK residents to send money to India. Other currencies currently accepted by the company are the euro, US dollar, South African rand, Canadian dollar, and the Hong Kong dollar, among others.
This announcement came at a time when funds transfer to India are expected to rise as the Diwali season starts. As an incentive, the first £1,000 sent to India through the platform will be for free. In a statement, the company's CEO, Cedric Menager said:
"Since PagoFX launched in the UK in April, we've received many requests from British Indians and expats seeking an easy, secure and great value way to send money home to India I invite anyone looking to send money to India, whether you're a Santander UK customer or not, to try our service and see the difference PagoFX can make."
Competition rising
The announcement by PagoFx came at a time when competition in the money transfer industry is heating up. In recent months, companies like TransferWise and WorldRemit have been on a strong growth path as evidenced by the amount of money they have raised. Similarly, more people are using cryptocurrencies to send money abroad.
At the same time, the volume of transactions between the UK and India have been rising. According to The Migration Observatory, the India is the biggest remittance receiver from the UK followed by Nigeria, France, and Pakistan. This means that with proper marketing, PagoFx may give other money transfer companies strong competition.
Meanwhile, European banks are under pressure as the ECB has brought interest rates to the negative territory. In its most recent quarterly earnings, Santander reported a net profit of €1.75 billion. That was a rebound from its first half loss of more than €11.1 billion.
Are you in the process of sending money to another country? At MoneyTransfers, we can help you save money by showing you the transaction costs charged by hundreds of companies.
Crispus Nyaga
Crispus is a financial analyst with over 9 years in the industry. He covers the stock market, forex, equities, and commodities for some of the leading brands. He is also a passionate trader who operates his family account. Crispus lives in Nairobi with his wife and son.