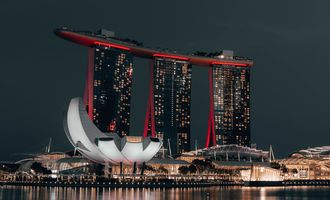 USD/SGD Lower on US Recession Fears
Disappointing US economic data sent the USD/SGD trading pair tumbling to a six-week low of 1.3780 in early Asian trading on Friday.
The Q2 US Gross Domestic Product (GDP) estimate released on Thursday showed the US economy shrank for the second consecutive quarter.
The US economy contracted -0.93% in the three-months leading to June, below analysts' forecast of +0.5 growth. Back-to-back slowing quarterly GDP data suggests the US is already in a "technical recession".
Following the data, the US Dollar lost ground against its major trading pairs. The US Dollar index reversed earlier gains, finishing the day at 106.00, down from around 107.00 earlier in the day.
Asia Pacific (APC) currencies were some of the best performers vs the greenback. The Japanese Yen had it's best trading day against the US Dollar since November 2018. Similarly, the Korean Won and Malaysian Ringgit both ended the day substantially higher.
The softer economic data stateside calls into question whether the Federal reserve Open market Committee (FOMC) will maintain it's hawkish path. Notably, following Wednesday's 75 basis point rate hike, Fed Chair Jerome Powell's tone seemed to soften.
At the post-FOMC presser, Chair Powell said future hikes will be "data dependent". This could suggest the central bank may hit pause should economic conditions deteriorate further.
Analysts at Maybank are not convinced the Fed will be swayed so easily. The securities firm warned that Powell is still hawkish, which should continue to support the US Dollar longer-term. However, the near-term outlook for the Singapore Dollar suggests it may see more gains in the coming weeks.
Singapore Dollar Outlook
The daily price chart shows USD/SGD has broken out of three-month uptrend. As a result, technical selling pushed the pair below the 100-Day Moving Average (DMA) at 1.3787 (blue line).
If USD/SGD completes a daily candle close below the 100 DMA, a leg lower towards the longer-term 200 DMA at 1.3667 is possible.
For now, bearish traders have the upper hand. For that reason, the near-term outlook is negative. This remains the case, unless USD/SGD reclaims the rising trend line at 1.3850.
USD/SGD Price Chart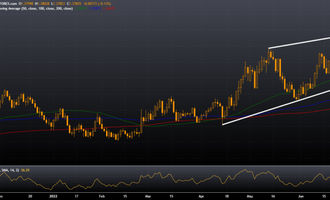 Elliot Laybourne
Elliott is a former investment banker with a 20 year career in the city of London. During this time he held senior roles at ABN Amro, Societe Generale, Marex Financial and Natixis bank, specialising in commodity derivatives and options market-making. During this time, Elliott's client list included Goldman Sachs, JP Morgan, Credit Suisse, Schroders Asset Management, and the Pennsylvania State Public School Employees Retirement System, amongst others. Today, he splits his time between Thailand and Dubai, from where he provides trading consultancy and business development services for family office and brokerage clientele.