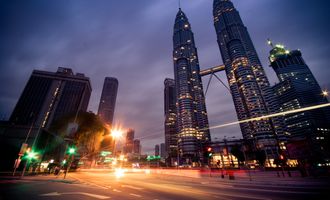 USD/MYR: Ringgit Poised For More Losses
USD/MYR is higher again on Wednesday as geopolitical tension sends capital fleeing west towards the safety of the US Dollar.
The Malaysian Ringgit is marginally higher against the greenback in Asian trading. At the time of writing the US dollar to Malaysian ringgit exchange rate is 4.456, just below the five-year high of 4.460 set in July.
The weakness comes on the back of strong safe-haven flows into the dollar following Nancy Pelosi's pitstop in Taiwan. On Tuesday, markets waited with baited breath to see how China responds to the controversial stopover.
China warned of swift retaliation if Pelosi visited Taiwan, which it lays claim to. Subsequently, the Asian superpower announced it begin live-fire drills surrounding Taiwan from tomorrow. As a result, regional currencies remain pressure under as fears of military conflict grow.
Malaysian Economy
The Malaysian economy like many of its neighbors is struggling under the weight of crippling inflation and a rising US dollar. Malaysia is a net importer of oil, which is priced in US dollars. For this reason, the dollar's strength against the ringgit is fueling domestic inflation.
Malaysian Finance Minister Tengku Datuk Seri Zafrul Aziz acknowledged the ringgit is fighting to retain capital, announcing: "The rise in US interest rates has driven capital flows, resulting in a decline in currency exchange rates and global financial markets among developed economies, emerging economies and developing economies".
The Minister added: "Favorable growth expectations and appropriate policy calibration will help support investor confidence in the economy and the ringgit."
It remains to be seen if the assurances will stem the ringgit's slide, which has seen it depreciate over 7% against the dollar in 2022.
US Dollar to Malaysian Ringgit Outlook
The daily price chart shows USD/MYR is in a steep uptrend. The ringgit's weakness has pushed it to the lowest point against the dollar since 2017. Despite this, the price action looks constructive, suggesting more dollar strength.
However, geopolitics rather than technical analysis will decide the ringgit's immediate fate. Should tension in the region increase, the dollar may strengthen further. In that event, we could see USD/MYR extend towards the 2017 high (shown).
USD/MYR Price Chart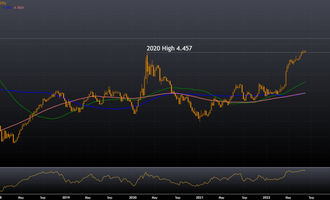 Elliot Laybourne
Elliott is a former investment banker with a 20 year career in the city of London. During this time he held senior roles at ABN Amro, Societe Generale, Marex Financial and Natixis bank, specialising in commodity derivatives and options market-making. During this time, Elliott's client list included Goldman Sachs, JP Morgan, Credit Suisse, Schroders Asset Management, and the Pennsylvania State Public School Employees Retirement System, amongst others. Today, he splits his time between Thailand and Dubai, from where he provides trading consultancy and business development services for family office and brokerage clientele.