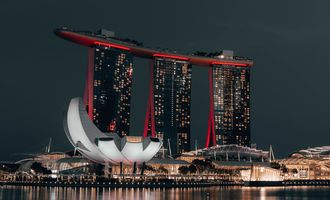 USD/SGD Steady at key Technical Level
USD/SGD is trading with a firmer tone on Thursday as the market counts down to tomorrow's crucial unemployment data in the US.
The Singapore dollar has retreated around -0.4% against the greenback in the last two days as it's good run of form appears to be stalling. The USD/SGD pair has fallen -2.00% Since mid-July on fears the US economy is stalling.
However, strong flows into the greenback on rising geopolitical tensions have helped it to pare the recent losses.
The US dollar, Swiss Franc, and the Japanese Yen attracted safe-haven buying this week, following Nancy Pelosi's recent visit to Taiwan. With foreign exchange markets are expected to remain skittish and highly-reactive to headlines regarding the fluid situation.
Economic Data
Another deciding factor whether the US dollar to Singapore dollar exchange rate is ready to turn higher is Friday's US Nonfarm Payrolls (NFP) and Unemployment rate numbers.
Analysts forecast the NFP data will show the US labor force increased by 250k in July vs 381k in June. With the unemployment rate expected to remain stable at 3.6%.
Recent data shows some areas of the US economy is slowing. Gross Domestic Product (GDP) has contracted for two-consecutive quarters (technical recession) and manufacturing data suggests Q3 may also disappoint. As a result, traders will pay close attention to the employment numbers for clues as to where the dollar heads next next. In theory, weaker data will call into question whether the FOMC will maintain its hawkish path. Whereas better-than-expected numbers should give the fed more room to fight inflation.
US Dollar to Singapore Dollar Outlook
The daily chart shows USD/SGD is trading in a short-term downtrend. However, the pair is finding support at the 100-Day Moving Average (DMA) at 1.3794 (blue line). Technical traders use moving averages to determine market momentum. Subsequently, how USD/SGD performs here could be significant.
If the pair holds above the 100 DMA, it should encourage buying. In this event, we could see an extension to the 50-DMA at 1.3877. By contrast, a slide back below the 100-Day indicator could drive the price lower to the longer-term 200-DMA at 1.3673 (pink line).
USD/SGD Price Chart
Elliot Laybourne
Elliott is a former investment banker with a 20 year career in the city of London. During this time he held senior roles at ABN Amro, Societe Generale, Marex Financial and Natixis bank, specialising in commodity derivatives and options market-making. During this time, Elliott's client list included Goldman Sachs, JP Morgan, Credit Suisse, Schroders Asset Management, and the Pennsylvania State Public School Employees Retirement System, amongst others. Today, he splits his time between Thailand and Dubai, from where he provides trading consultancy and business development services for family office and brokerage clientele.