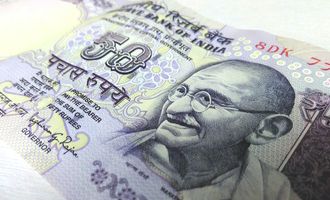 USD/INR Jumps 0.40 Percent on Dollar Strength
USD/INR is making gains on Thursday on a stronger US dollar as we count down to a slew of crucial economic data releases from the United States.
Later today, we have not one, but five potential market-moving data points.
Kicking off proceedings is the minutes of July's Federal Open Market Committee (FOMC) meeting. Here we find out just how hawkish the Fed was the last time the committee met. After that, FOMC member Browman speaks. Which will also shed light on how the FOMC members are positioned.
Moving on to this evening, Initial Jobless claims and the Philadelphia Fed Manufacturing Index for August provide more potential flashpoints.
Lastly, bringing up the rear, the Existing Home Sales data for July will reveal the health of America's housing market.
Initial jobless claims are expected to show 265,000 Americans filed for unemployment in the month. Up from 262k in June.
As for the Philly fed. That's expected to narrow to -5.0 percent in August from -12.3 percent in July. And the Existing home sales are forecast to come in lower at 4.89m from 5.12m in June.
US Dollar to Indian Rupee Outlook
With so much to unpack in today's data dump, predicting the macro outlook for the USD/INR is a fool's errand — although, he technical outlook is clear.
The daily chart shows the US dollar to Indian rupee exchange rate is on the verge of breaking out to the upside. At the time of writing, the dollar is pushing against a descending trend line at 79.65. Which if broken, should encourage even more dollar strength.
Below the market, the 50-Day Moving Average (DMA) at 79.09 (green) provides significant price support. As long as USD/INR remains above the 50-DMA it should continue to trade with a bullish bias.
However, a close below would signify rupee strength. For that reason, the technical outlook is bullish above 79.09, shifting to bearish below.
USD/INR Price Chart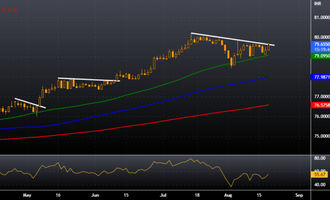 Elliot Laybourne
Elliott is a former investment banker with a 20 year career in the city of London. During this time he held senior roles at ABN Amro, Societe Generale, Marex Financial and Natixis bank, specialising in commodity derivatives and options market-making. During this time, Elliott's client list included Goldman Sachs, JP Morgan, Credit Suisse, Schroders Asset Management, and the Pennsylvania State Public School Employees Retirement System, amongst others. Today, he splits his time between Thailand and Dubai, from where he provides trading consultancy and business development services for family office and brokerage clientele.