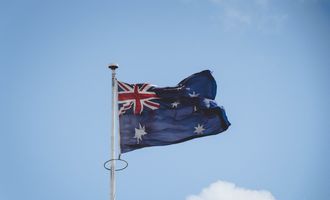 AUD/THB Holds Above Key Support
After a brief wobble, AUD/THB is stable and looks like it wants to go higher. The question is, how high can the Aussie climb against the Thai baht?
The Aussie dollar is back in bullish form against the baht, having gained around 1.7 percent over the last week.
At the time of writing, AUD/THB is trading around the psychological 25.00 level. The current level is a 4.00 percent increase on the year and around 3 percent below the July high.
Although the Aussie has performed well against the baht in the last two years, it's lost 22 percent of its purchasing power against the Asian currency in the last decade. In 2012, one Australian dollar bought 35 baht, reaching a low of 18.40 during the covid crisis.
For the 20,000 Australians living in Bangkok, who regularly send money to Thailand, the hope is the Aussie will continue to recover. Luckily for them, the signs are that it will.
The central bank of Thailand is taking a much slower approach to fighting inflation. Currently, Thailand's benchmark interest rate is just 0.75 basis points as opposed to 1.85 percent in Oz. Furthermore, Thailand is currently amid a political crisis, clouding its economic outlook. With this in mind, the Bank of Thailand (BOT) may be reluctant to tighten too much, for fear of causing a recession.
Aussie Dollar to Thai Baht Forecast
Turning to the daily chart, we see AUD/THB is trending uniformly higher.
The pair is above the 50, 100, and 200-Day Moving Averages (DMAs) and trend line support. The 50-DMA at 24.82 (green) is the first notable support. After that, the 100-DMA at 24.66 (blue) and the rising trend line at 24.60 (white).
If AUD/THB holds above the mentioned support levels, it should trade with a bullish bias. In this event, we can expect the pair to head higher towards this year's peak of 25.70. However, a daily close below the trend opens the door for a test of the significant 200-DMA at 24.35 (red line).
AUD/THB Price Chart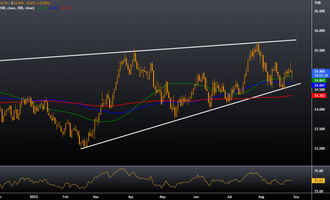 Elliot Laybourne
Elliott is a former investment banker with a 20 year career in the city of London. During this time he held senior roles at ABN Amro, Societe Generale, Marex Financial and Natixis bank, specialising in commodity derivatives and options market-making. During this time, Elliott's client list included Goldman Sachs, JP Morgan, Credit Suisse, Schroders Asset Management, and the Pennsylvania State Public School Employees Retirement System, amongst others. Today, he splits his time between Thailand and Dubai, from where he provides trading consultancy and business development services for family office and brokerage clientele.