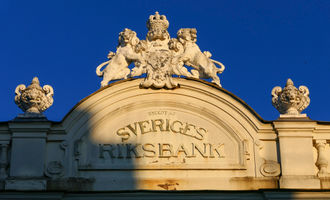 USD/SEK Forecast as Swedish Krona Crash Gains Steam

Crispus Nyaga
The USD/SEK price pulled back on Monday even after the relatively weak Swedish GDP numbers. The exchange rate dropped to a low of 10.65, which was lower than this month's high of 10.76. It has risen by about 20% this year, making krona the second-worst performing G10 currency this year.
Sweden GDP data
The Swedish economy has come under intense pressure as demand slows and inflation bites. According to the country's statistics agency, the Swedish economy expanded by 0.9% on a quarter-on-quarter basis. This increase was better than Q1's contraction of 1.5%. It was also lower than the median estimate of 0.6%.
On a year-on-year basis, the country's economy expanded by 3.8%. The increase was worse than the median estimate of 4.2%. In a statement, the agency blamed the slowing growth to the relatively weak consumer spending as inflation rose.
Further, business and government expenditure declined sharply in the quarter. Additional data revealed that Swedish retail sales dropped by 0.6% in July, which was worse than the expected expansion of 0.6%. On a year-on-year basis, retail sales crashed by 3.9%, which was worse than the expected contraction of 3.4%.
These numbers came two weeks after the agency published the Swedish inflation data. The country's inflation surged to a new three-decade high of 8%. Therefore, analysts expect that the Riksbank will deliver another rate hike in its September meeting. Most of them expect that it will hike by 0.75% in its September meeting.
The Swedish economy is facing multiple challenges. Inflation has surged because of rising natural gas and oil prices. This increase has affected how consumers and businesses are spending. It has also affected global trade. Indeed, the Swedish trade deficit widened to 2.10 billion in July.
USD/SEK forecast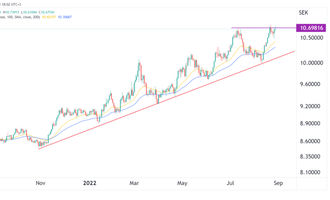 The daily chart shows that the USD/SEK price has been in a strong bullish trend in the past few months. It has rallied by over 20% this year alone. Along the way, the pair has moved above the ascending trendline shown in red. It has moved above the 25-day and 50-day moving averages.
Therefore, the pair will likely keep rising as bulls target the next key resistance level to watch will be at 12. 
Crispus Nyaga
Crispus is a financial analyst with over 9 years in the industry. He covers the stock market, forex, equities, and commodities for some of the leading brands. He is also a passionate trader who operates his family account. Crispus lives in Nairobi with his wife and son.