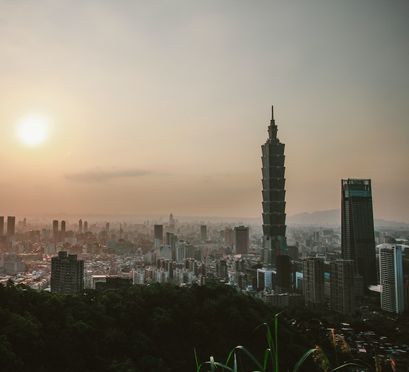 USD/TWD Hurdles Resistance, Aiming Higher
USD/TWD jumped to a two-year high of 30.64 on Monday, as safe-haven dollar buying and China's worsening Covid outlook drove the pair above key resistance.
The USD got off to a strong start this week, bolstered by safe-haven flows as Europe's energy crisis took a drastic turn for the worse. On Sunday, Russian majority state-owned energy giant Gazprom shut down the crucial Nord Stream1 pipeline that supplies gas to western Europe.
Iintial reports suggested the closure was caused by maintenance to fix a leak. However, comments from President Putin's spokesman, Dimitry Peskov revealed that sanctions were behind the decision.
The problems pumping gas came about because of the sanctions western countries introduced against our country and several companies…There are no other reasons that could have caused this pumping problem.

Dimitry Peskov
If the west was under any illusions that the shutdown is anything other than political, Peskov has all but confirmed it.
When energy markets opened on Monday, gas prices skyrocketed, sending the Euro below $0.99 and the British pound tumbling. As a consequence, the US dollar index surpassed 110.00, setting a new twenty-year high.
While, the US dollar strength is playing it's part in pushing USD/TWD higher. A catalyst, closer to home is weighing on the Taiwan New dollar. China, Taiwan's biggest trading partner, has reintroduced Covid controls in two densely populated regions. Shenzhen has followed suit with Chengdu, placing restrictions on its residents. As a result, more than 65 million Chinese people are subject to regulations.
This, twinned with the economic downturn in China is likely to result in less companies needing to send money to Taiwan for exports. Subsequently, the Taiwan dollar has jumped to a two-year against the US dollar. Furthermore, the technical outlook suggest more USD strength in the days ahead.
US Dollar to Taiwan Dollar Forecast
Following a 1.00% rally on Monday, USD/TWD has cleared the resistance offered by the Q4 2020 highs at 30.55. The former resistance now becomes the first line of technical support. If the pair remains above this level, a logical destination is the August 2019 high around 31.70.
However, the Relative Strength Index (RSI) of 80.30, suggests the rally is overdone in the near-term. With this in mind, a period of consolidation is likely. If the rate turns below 30.55, support is seen at the 200-Day Moving Average (DMA) at 29.41 (red line).
For now, the outlook is positive, with more USD strength expected. However, considering the stretched RSI, the rate of ascent is likely to slow.
USD/TWD Price Chart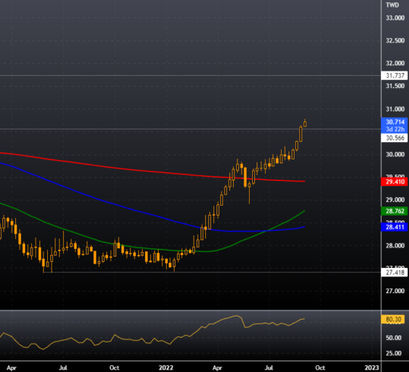 Elliot Laybourne
Elliott is a former investment banker with a 20 year career in the city of London. During this time he held senior roles at ABN Amro, Societe Generale, Marex Financial and Natixis bank, specialising in commodity derivatives and options market-making. During this time, Elliott's client list included Goldman Sachs, JP Morgan, Credit Suisse, Schroders Asset Management, and the Pennsylvania State Public School Employees Retirement System, amongst others. Today, he splits his time between Thailand and Dubai, from where he provides trading consultancy and business development services for family office and brokerage clientele.