Checklist for Moving to Mexico
The next thing to do before you start packing or scouting for houses in Mexico is to go through this mini guide we've prepared:
Research forums to see if Mexico is the right fit for you

Check your passport validity

Create a budget

Figure out visa requirements

Start learning Spanish

Check if you're eligible for work

Get all your papers in order (you might need to translate them into Spanish)

Pick a city (search for housing and transport options)

Buy a one-way ticket to Mexico

Check with immigration to get your long-stay Mexican visa

Open a bank account

Buy a local SIM card
If you have completed some of the above, feel free to cross them off the list. Otherwise, read on to learn more about each.
Mexican Visas, Work Permits, and Residency Requirements
Citizens of Schengen countries, as well as the UK and USA, Canada, or Japan do not require a visa to enter Mexico for tourism, studies, or business purposes for up to 180 days. The only requirement is to have a valid passport and fill out the Multiple Migratory Form (FMM). People who intend to stay for more than 180 days or will possibly receive some form of remuneration in the country, must apply for a Mexican work visa, tourist visa, or some other type of long-stay permit.
At present, in addition to the basic visitor visa issued to citizens of countries that require a visa to enter Mexico, the government has two other basic visa categories:
Temporary Resident

Permanent Resident
Now, depending on the reasons behind your extended stay in Mexico, the Mexican Ministry of Exterior might find you eligible and grant you one of the following:
Diplomatic or Official

Tourist, Business, or Transit

Work Permit

Visa for the purpose of Adoption

Visa for Temporary Residents

Temporary Resident Students

Permanent Residents

Household Inventory Permit

Temporary Import Permit for Equipment
For Americans moving to Mexico, the best course of action would be to find the closest Mexican consulate in the US and contact them to schedule an appointment.
Work Permit
If you're relocating to the United States of Mexico for work, you will have to get a unique processing NUT number (issued by the National Immigration Institute) after which you will schedule an appointment and have 10 days to get your papers in order. Once all of that is done, you'll need to attend the interview and get the visa.
The remaining documents for the so-called lucrative permit for those relocating to Mexico for work are the following:
A filled-out visa application form

Passport + photocopy (those residing in the USA will need to submit their US visa or ESTA authorization + photocopy)

Valid I-94 + photocopy

Resume

One photo passport size (without glasses)

Visa fee payment (which is non-refundable if your visa application was denied)
Temporary and Permanent Residence Permits
The temporary visa is intended for people traveling to Mexico for retirement, investments, professional, technical, artistic, scientific and sports activities, or as a minister of religion. With this type of permit, you can only stay up to 180 days and won't have work authorization. The permanent on the other hand is for those relocating to Mexico indefinitely, are retired, and do not have work authorization. This shouldn't be a problem if you're coming from the US since the average savings of US citizens are close to $142k.
The required documents for these two visa types are very similar. The main difference is that the temporary one requires the following documents:
Proof of income, like bank account statements and last 12 months of pay stubs.

A letter of invitation from the company or entity that is based in Mexico stating the length of your stay, how your expenses will be covered and the reasons for your visit. This letter must be addressed to the Mexican Embassy or Consulate.
In a way, the temporary visa is also intended for people moving to Mexico for work, with the difference that the work permit we discussed above is for those who will be receiving an income in Mexico.
The permanent residence permit only requires the last 12 months of your bank account statements (or investment account) showing a balance of $181,968.00, or a Yearly Social Security Statement proving a pension-based monthly income of $4,549 for the past six months.
The Mexican visa requirements i.e. the accompanying documents for both include a valid passport, the same application form as the one for the work permit, passport photo size, and the consular (visa) fee payment.
Finally, for most of the visas we've discussed above, you will have 30 days after your physical arrival in Mexico to exchange the visa for a residency card. To learn the specifics of how to do this, you must pay a visit to the nearest local immigration office.
Moving to Mexico
While some say it's a land of extremes with deserts in the north, sky-high mountains in the center, and rainforests populating the south and east of Mexico, birds, for example, would strongly argue against it. Namely, Mexico is a shelter for birds fleeing from cold temperatures in the northern and extreme heat in the southern hemisphere. In fact, the main reason birds find Mexico's climate so welcoming is because it's extremely complex with arid and semi-arid weather conditions in the north and humid and sub-humid in central areas.
Temperatures range from 15°C to 20°C and 23°C to 27°C in the coastal regions, and the annual average is around 20.6°C. But of course, if you're looking for reasons not to move to Mexico, a potential one would be that both the Atlantic and Pacific coasts are vulnerable to hurricanes - with El Niño being a major weather influencer.
Expat Community in Mexico
It's not just birds who love Mexico - Americans too are flocking to Mexico like crazy. The latest news from both Bloomberg and local news outlets reveals the number of US citizens who've been granted temporary residency in 2022 has increased by a whopping 85% compared to 2020.
In addition, the number of American expats in Mexico has not only reached a fantastic 1.6 million, but compared to only two years ago it has jumped by nearly half a million. Mexico's 2020 Census revealed that both a total of 797,266 US citizens and another 471,998 US-born children (5-19 years old) reside there. These figures are a testament to the fact that Mexico offers an easier, happier, and more relaxed lifestyle, especially for expats.
Naturally, Americans are not the only ones drinking cervezas in Mexico. In fact, numbers show the second largest expat community in Mexico is made of people from Honduras (17,598), followed by the ones from Guatemala (9,422) and El Salvador (2,348). Other nationalities that typically expat to Mexico are Bangladeshis, Senegalese, Venezuelans, Mauritanians, Nepalis, Israelis, Palestinians, and many more.
Moving Your Pets to Mexico
Mexico classifies only dogs and cats as pets - traveling with any other pet, birds or reptiles requires a special permit. As per the current laws, the country allows up to 3 pets per person to be imported or 4 for couples. For additional pets, you will be required to pay a fee.
In addition, the National Service of Health, Food Safety, and Food Quality has one set of rules for pet parents coming from the US and Canada and another for those coming from other countries. What applies in all cases though, is that the pet must be transported in an appropriately labeled crate or kennel.
US citizens moving to Mexico with pets are not required to submit a health certificate for their pets. However, we strongly advise you to do a routine check with the vet before you travel as once you get to Mexico, your pet will be subjected to a physical examination by a SENASICA staff and if infectious or contagious diseases, scarring lesions, or signs of ectoparasites are detected you will have to take it for treatment. The worst-case scenario is that your little friend might be taken into custody until the issue is resolved.
Adapting to Life in Mexico
Given that Mexico is the number one destination for Americans and ranks 7th on the list of most visited countries with around 45 million visits a year, adapting to your new life should be fairly easy. Plus, Mexico has been named the best country for expats with exceptional results in ease of settling in.
One of the many benefits of living in Mexico is that you will be eating delicacies from the 7th best cuisine in the world. Moreover, research says Mexican food is the preference of 86% of Americans. From the most popular breakfast dishes like the chilaquiles and huevos rancheros (ranch eggs) to tacos and burritos for lunch, tamales, quesadillas, and guacamole for dinner–Mexican food is a pure work of art. No wonder it's inscribed in UNESCO's list of intangible cultural heritage. And of course there's tequila, which is not only the symbol of Mexican pride but also a great digestion aid.
Regarding the pros and cons of living in Mexico, the second biggest advantage is that the Mexican people are notoriously famous for their hospitality and friendliness, and nourish a strong sense of community. Neighbors in Mexico take care of each other and you can count on yours to have your back.
The downside is that most Mexicans don't speak English but they compensate for this with body language and if you find yourself in a pickle, just try using hand gestures. Also, if you have an issue with personal space, you will just have to work on it because up-close-and-personal is how Mexicans roll.
Finally, if you're moving to Mexico from the USA, you probably have concerns about safety. Thanks to the news, the country is often associated with drug cartels and such. The truth is, however, that most Mexicans live normally without being affected by this. Basically, all you have to do is use your common sense, stay away from dangerous areas, and you'll feel at home in no time. As a comparison, the number of assaults in Mexico (14,307) is much lower than that of the US which is over 2 million.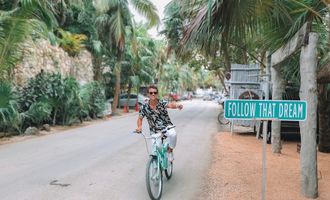 Cheapest and Most Expensive Mexican Cities
The beauty of living in Mexico as an American is that the country is vast, so you have plenty of choice between living an urban life, a peaceful one in some small village or finding a spot where you won't have to see a soul unless you want to.
For those who are not on a budget and wish to enjoy the indulgences Mexico offers, no matter the cost, the most expensive cities are:
Tehuantepec

Tapachula de Córdova y Ordóñez

Jacona de Plancarte

Morelia

San Francisco de Campeche
In other words, if living cheaply in Mexico is your target, don't even search for apartments in one of the above. Note, however, that even though by consumer price index these are the most expensive cities in Mexico, the same does not apply for the respective states. For instance, Guerrero and San Louis Potosi rank first on the list of most expensive states while Puebla ranks third.
Expats looking for more affordable cities in the United Mexican States should consider the following options:
San Cristóbal de las Casas

Valladolid

Santiago de Querétaro

Toluca de Lerdo

Iguala de la Independencia
The state of Tamaulipas is ranked the cheapest place to live in Mexico where housing options are concerned - the average housing prices start as low as 806k MXN or around $41k. At present Tampico has the lowest consumer price index at 7.74%.
Moving on from finance, there is a lot more to admire - temples and cathedrals, squares and beaches all make up the kaleidoscope of culture that is called Mexico. For students, and expats, for instance, Mexico City is a top location and an exceptional sight.
Then there is the Puerto Vallarta resort town and the captivating bohemian-like Tulúm. San Miguel de Allende, a thriving colonial-era city, is slowly but surely becoming the number one best place to live in Mexico as an expat–the list could go on. However, since we are talking about relocating we will only state a few more where the largest expat communities are located:
Queretaro

Cancun

Mérida

Guadalajara

Los Cabos
Transport and Infrastructure
When you think of Latin America and transport the first thing that pops to mind are those small and overcrowded, old-timey vehicles but the reality is a tad different. In fact, Mexico has over 1,700 airports and as such ranks 3rd in the world, though only 242 have paved runways. Expats living in Mexico will also learn that, land-wise, the country is pretty well connected with a vast network of railways and roadways for which it ranks 12th and 11th in the world, respectively. So let's look at the benefits of each:
Plane
The most popular entrance points for people arriving in Mexico are the Mexico City International Airport and Cancun International Airport while Aeromexico, Interjet, and Volaris are national airlines that offer low-cost international and domestic flights. What you should know, however, is that regardless of whether you're traveling to Mexico City, Cancun, or Tulúm, you will be charged a (TUA) fee for using the facilities and services of the terminal building.
Bus
Buses are the most affordable and convenient means of transport in Mexico. What's more, you can book a bus ticket to travel executive or first class and there are multiple terminals in almost all big cities. In Mexico City for instance, you can choose between one of the four available terminals.
Those who are moving to Mexico permanently and don't want to drive can also use local buses which exist in every town. There are also the so-called colectivos, which are like minivans or passenger vehicles. Colectivos can often be found in Oaxaca, Chiapas, and other tourist locations like the Yucatan Peninsula.
Metro
There is the rail metro or El Metro and the Metrobus which are like a subway system and a train system, but currently only Mexico City and Monterrey have this type of transport. So for Americans or other foreigners moving to Mexico City, we strongly suggest this option as the most effective and cost-effective means of transport.
Train
The railway system in the country is rather limited for passengers as it is mostly used for freight transport. However, there are big announcements regarding the Train Maya project, a 1,525 km long railway that will connect key cities and tourist regions of the Yucatán Peninsula in Mexico, and a few other related projects. It will supposedly be completed by 2023.
Taxi
Taxis are widely used but as you will learn while living in Mexico, most cab drivers don't use meters and not all cabs are safe. So, we suggest you either find yourself a personal cab driver or try Uber which is not an option everywhere.
Driving in Mexico
If you're going to live there permanently, you might as well try driving but we have to tell you that while it can be an efficient way to go around the country, it's also frustrating because congestions on highways are really common. But yes, once you're out of the jam, you will be in for a treat because you'll get to see places that are otherwise inaccessible. Note that as a resident, you will have to obtain a Mexican driver's license.
Cost of Living in Mexico
Mexico is the home of the world's largest pyramid, the smallest volcano, and the second country in the world for the number of museums. Although a lot of people consider Mexico as a cheap place to live, the latest data reveal the country is not immune to the devastating trend of price increases. In fact, from 2021 to 2022 the consumer price index increased from 6.19 to 8.70 percentage points. The good news is, the good old dollar still works wonders.
The most essential element to any expat living in Mexico is the cost of basic food products. And so, data shows products like corn, wheat, and rice cost from ¢0.35 for corn grain to $3.23 for sweet indulgences like cookies. The price of meat varies between $6.94 for beefsteak and $5.84 for minced meat to $3.10 for fresh fish. Fresh vegetables cost from $1 to $2 and the same goes for fruits with oranges being the cheapest at ¢0.56.
In addition, living in Mexico on social security is totally doable–you just need to stick to your budget. It also means you'll be able to afford meals in inexpensive restaurants that cost around $5, and have a pint of beer while you're at it–it only costs $1.5. Clothing goes from around $40 for a pair of Levi's to $30 for a summer dress and $70 for a pair of Adidas trainers. Also, a gym membership is around $30 a year, so you don't have to worry about staying fit after all those tacos and cervezas.
Utilities or water, electricity, garbage, heating, and cooling, according to reports, will cost you around $40 per month, and around another $20 to get an internet connection. However, our research showed that apartments located in more luxurious locations may cost as much as 4x more.
The average rent in Mexico on the other hand ranges from $9,000 MXN per month or $500 to as low as $4,500 MXN or $300. And while it's true that the capital holds pretty high prices, it should be noted that there are huge variations in accordance with location. For instance, the monthly rent for a one-bedroom apartment in downtown Mexico City is around $630 but in the suburbs, you'd pay around $430.
Working in Mexico
While many go to Mexico to spend their golden years on the beautiful tropical beaches, some go there to work, especially digital nomads. And if you're moving to Mexico for work you should know that the average wage there is significantly lower than the American or a total of $16,610 a year to be exact. But of course, there are a lot of US companies operating in Mexico so finding a job that pays much more should not be a problem.
In regards to the expat workforce and job opportunities, the most promising sectors are finance, telecommunications, IT, healthcare, and of course, tourism and hospitality. Teachers, those specializing in corporate English training in particular, is one of the most demanded profiles.
Finally, if you already have a job that you can do remotely and are relocating to simply enhance your lifestyle, you can do so anywhere in Mexico. A word of caution though, even though many welcome the influx of Americans moving to Mexico to work remotely, mainly because they're spending their well-earned money to help boost the economy, reports say locals feel foreigners are not interested in understanding the local culture.
Mexican Healthcare
No matter which country you're moving to, getting to know the healthcare system is always a daunting task - and in Mexico it can be fragmented. To begin with, it's composed of three main service providers: public, private, and employer-founded. In other words, healthcare is provided by either the federal government, the social security system, or private insurance companies.
The health insurance provided by the Mexican Institute of Social Security (IMSS) and ISSSTE is the one that covers people employed in the private sector and their families. People with work permits in Mexico are eligible to use this system though if you are self-employed, you'd need to enroll voluntarily and pay contributions directly. And the good news is user satisfaction with this particular scheme has increased from 77% to 81%.
Second is the private sector and private insurance companies that have their own clinics and hospitals. This type of healthcare is often offered to employees and expats with an option to split premiums and fees between them. Naturally, this option is better as it is equipped to handle specialized procedures and provides top-notch service and quality. It's also the most convenient type of health insurance in Mexico for expats.
Finally, there are government-provided social programs and these are reserved for citizens who are not covered by any healthcare scheme. As of 2020, INSABI, or the Institute of Health for Well-being which is under the federal government, is implementing this project which is still relatively new and aims to replace the previous public health insurance scheme.
School and Higher Education in Mexico
The literacy rate of the United Mexican States is a little above the global average at 95.4%. Compulsory education in the country is made up of grades one to nine, with an optional secondary education going to the 12th grade.
If your plan is to immigrate to Mexico, you should know that even though the education system is the same everywhere, the standard in rural public schools is lower than that of urban ones. But there are private and international schools that offer a much better standard which is why they are preferred by Mexicans too, or at least those who can afford them.
As far as universities go, the number one is the Universidad Nacional Autónoma de México (UNAM) which also ranks as the 5th best university in all of Latin America. Second-ranked in the country is the Tecnológico de Monterrey which is a private university, and third best ranked is Benemérita Universidad Autónoma de Puebla which is the oldest and largest in the country.
Finances, Taxes, and Remittance
At present, Mexico generates nearly 18% of its GDP from tax revenue. VAT is payable on sales of goods and services, as well as lease payments and imports of goods and services, and amounts to 16%. The tax system relies on three different types of taxes; federal, state, and municipal.
Types of Taxes in Mexico
People who are moving to Mexico to work, have permanent residency, and generate more than half of their worldwide income from Mexico qualify as tax residents. Individual taxation in Mexico ranges from 1.92% to 35% with a capital gains rate of 10%. For example, if you make between 510,451.01 MXN to 974,535.03 MXN a year, you will be taxed 30% or exactly 95,768.74 MXN.
The income for non-residents or people who've received income from a Mexican source will be taxed on the basis of that income. The applicable rates vary from 0% to 30%. So, if your earnings as a person living in Mexico are up to $125,900 MXN, you will not be subjected to any taxation but anything higher than that will be liable for taxation.
Finally, there's the good old corporate tax for which the rate is flat at 30%. The same rate applies to capital gains while the branch tax rate is also 30%, but has an extra branch remittance tax which does not always apply. Also, branches are taxed like subsidiaries and the foreign income derived from residents will be taxed in the same way as income coming from Mexico.
Note that if you're moving to Mexico as an American, you will most likely have to file your taxes in both Mexico and the US. This is because, as a permanent resident, you will most probably have some local tax obligations and because as a US citizen you're obligated to file an annual tax return.
Marrying and Starting a Family in Mexico
Mexico is a country that's huge on celebrating the Day of the Dead so you can imagine the ecstasy of celebrating nuptials. The Mexican people absolutely adore weddings which is why they register over half a million a year - and that's civil only, as a lot of religious ones are not even registered.
Moreover, the country is becoming increasingly popular, not just because Americans emigrate to Mexico, but because they're also getting married there - and this includes gay couples. As of 2010, 31 Mexican states allow same-sex marriages. Before you move plan on starting a family in Mexico, here's a list of documents you will need:
Passport and permit (tourist or any other Mexican visa if you're living there)

Marriage application form from Civil Registry Office

Birth certificate (translated into Spanish and Apostilled)

Divorce decree or death certificate for widowed (translated into Spanish and Apostilled)

Two (or four) witnesses who are over 18 and have valid IDs
Also, depending on the state, the requirements for getting married in Mexico vary. This is why we strongly recommend you first check with the Civil Registry Office of the state where you plan to get married and then do everything else.
People moving to Mexico with a family or plan to start a family there should know the country has some amazing cities like Toluca with more than 8000 parks and recreational services. Mexico City on the other hand not only has parks but boasts over 570 hospitals. In fact, the number of hospitals in Mexico is close to 5000. Also, 97% of the births in Mexico are attended by a skilled professional so yes, feel free to start a family and raise your younglings in a country that places so much value on both life and death.
Buying Property in Mexico
Whether you choose a city with the highest or lowest cost of living in Mexico, as a foreigner, you are legally permitted to own property in Mexico. And despite the fact that real estate prices are soaring, interest in Mexico as a location for owning a second home is growing with online searches for homes rose by 60%. The housing market in Mexico is essential for Mexico as it contributes for around 6% of its GDP. Regarding housing prices, as of June, the national median is 881,000 MXN ($43,761). And while it's true that the Mexico City living cost is not the highest, at $2,892 MXN ($150) per m2, the capital still holds record high property prices.
Depending on the type of property you wish to buy, there are several ways to go about, but you should be informed that there are the so-called Restricted zones where purchasing property is only possible via corporation or Fideicomiso (bank trust). These zones are located 50 km off the coastline and 100 km from the borderline. In general, if you're interested in buying a house in Mexico you would need to:
Find your dream house and negotiate a price

Make it official with a sales contract (it's good to use a real estate agent or solicitor for this)

Pay the deposit

Create a fideicomiso (if required)

Permission from the notary to finalize the purchase and get your property valued

Sign the escritura (title deed) and pay outstanding costs
Naturally, the cost of moving to Mexico will be higher if you're planning to buy property as you would also have to pay real property taxes which range from 2% to 5%. The rates are imposed by the municipality and apply to all real estate transfers. Finally, registration of ownership usually takes three months after closing the deal.
Retiring in Mexico
Spending the 'sunset' years on the turquoise Mexican beaches or cosmopolitan cities is no longer a trend, but it's become something of a religion for US retirees. In fact, numbers show 53% of US retirees living in Mexico are under 65 and 80% are younger than 69 meaning that it's the ideal place for those who want to enjoy growing older in paradise.
If you're worried whether you can afford life in Mexico with an average US pension, don't worry, you will be able to lead a more than a comfortable life. In fact, you can choose to live on $1,000 a month or spend it in a day. It really all depends on your priorities. British retirees can live comfortably with £19,000 per year and those retiring in Mexico can certainly make do with a lot less.
The cities where many US retirees, decide to retreat, according to our research are the following:
Puerto Vallarta

Mazatlán

Zihuatanejo

Ajijic, Lake Chapala.

Oaxaca
Or you can do your own research and pick one that is entirely off-grid. Just be warned that the latest tax reform in Mexico imposes all foreign citizens living in the country to acquire a tax number.
Is Moving to Mexico a Good Idea?
Moving to Mexico can be an amazing experience and of course, as with any country, there are pros and cons to making such a big transition. But considering the information we've reviewed, Mexico offers you the opportunity to live affordable and comfortably, see unique places and spaces and find your own tribe, or Mexican family that will make this country feel like home in no time. And whenever in doubt, just picture yourself sipping tequila sunrise on playa Maroma.
FAQ
How much money do you need to move to Mexico?
Is Mexico easy to move to?
Where do most Americans live in Mexico?
Darko Jacimovic
With over six years of writing experience, Darko is a prolific writer in multiple industries including, but not limited to, digital marketing, SEO, finance, and technology. Acquiring a BA in English pushed him to pursue his lifelong dream to conquer the internet and take over the SERPs with high-quality content. While looking for his next travel destination, Darko developed impeccable research skills that helped him craft some of the most popular stats pages on the World Wide Web.