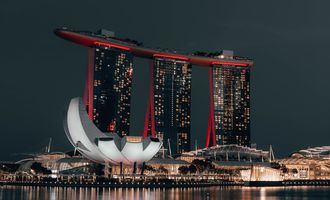 USD/SGD: Sideways Chop May Soon be Over
USD/SGD has started the week in lacklustre fashion. The US dollar to Singapore dollar rate is unchanged at 1.3792 (+0.00%) early Tuesday.
The Singapore dollar has been one of the better-performing Asian currencies against the dollar recently. After setting a two-year high in mid-July, USD/SGD has been trending broadly lower. In that time, the Sing dollar has gained around 2.25 percent against the buck. As a result of its relative strength, the Singapore dollar has recently made record highs against the Thai baht and the Malaysian ringgit.
SGD's gains paused last week, following the release of the US unemployment data for July on Friday. According to the July Non-Farm Payrolls (NFP), the US economy added 528,000 jobs in the month, significantly higher than the median analyst forecast of 250k. As a result, the US dollar saw strong inflows as odds of a 75-basis-point hike at the next FOMC jumped. However, much will depend on Wednesday's crucial inflation data from across the pond.
US CPI in Focus
The Consumer Price Index (CPI) report that will be released tomorrow will provide insight into the US inflation scenario. According to analysts, the rate of inflation will drop from 0.7 percent in June to 0.5 percent in July. After that, annual inflation is anticipated to decrease to 8.7 percent from 9.1 percent.
US Dollar to Singapore Dollar Outlook
Turning to the daily price chart we see USD/SGD is grinding sideways along the 100-Day Moving Average (DMA) at 1.3800 (blue line). This suggests the market is undecided on the Singapore dollar's immediate prospects.
Furthermore, the Relative Strength Index (RSI) indicator has levelled off and gives no clues on future direction. With that in mind, sideways price action is likely until the all-important CPI data tomorrow. Although not much action is expected in the next 24-hours, it's safe to say we could see volatility return in the latter half of the week
If the inflation data supports a stronger greenback, USD/SGD could jump to the 50-DMA at 1.388 (green line).
However, a lower-than-expected CPI could see the US dollar come under pressure. In this event, the 200-DMA at 1.367 (green line) is an obvious near-term target. Here the market should find good long-term support (see March and April).
USD/SGD Price Chart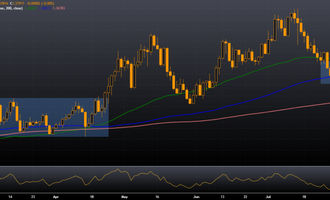 Elliot Laybourne
Elliott is a former investment banker with a 20 year career in the city of London. During this time he held senior roles at ABN Amro, Societe Generale, Marex Financial and Natixis bank, specialising in commodity derivatives and options market-making. During this time, Elliott's client list included Goldman Sachs, JP Morgan, Credit Suisse, Schroders Asset Management, and the Pennsylvania State Public School Employees Retirement System, amongst others. Today, he splits his time between Thailand and Dubai, from where he provides trading consultancy and business development services for family office and brokerage clientele.