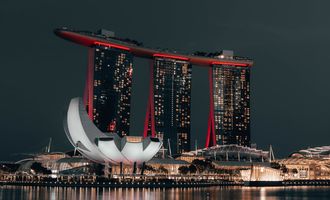 USD/SGD Rally Pauses on Singapore Inflation Data
USD/SGD has stalled at the psychological 1.4000 round number in the wake of the latest data showing Singapore's inflation at a 14-year high.
After breaching 1.4000 for the first time in four-weeks on Tuesday, the US dollar to Singapore dollar exchange rate is softer at 1.3955. Despite being off the highs, the US dollar is up almost 2.5 percent vs its Asian counterpart in the last 10 days and +4.00 year-to-date.

Although the Singapore dollar has lost ground against the buck, it's holding up OK. The Japanese yen for example, is trading at a 24-year low against the dollar. In fact, Singapore's currency is trading close to an all-time high against the baht and the Malaysian ringgit.
On Tuesday the Singapore Department of Statistics revealed the consumer inflation data for July. The core Consumer Price Index (CPI) rose 4.8 percent in July (YoY), above the forecast 4.7 percent and June's 4.40 percent. Meanwhile, the non-core CPI came in at the expected 14 – year high of 7.0 percent (YoY).
Following the data, the Monetary Authority of Singapore (MAS) warned the high prices are here to stay:
"Global inflation is likely to stay elevated in the near term as key commodity markets continue to face supply constraints and labor markets in many major economies remain tight,".
Analysts at Investment bank UBS predict the Singapore dollar will outperform if the global economy recovers:
"I think there could be some relief on Asian currencies which have already moved quite a fair bit…..the Sing dollar is something that we like," said Tan Teck Leng, APAC FX and macro strategist.
US Dollar to Singapore Dollar Forecast
USD/SGD is starting to look stretched on the daily chart. The steep rally has lifted the pair above the 50-Day Moving Average (DMA) at 1.3886 (green) and the 100-DMA at 1.3826 (blue). Whilst this is considered bullish, the Relative Strength Index (RSI) is rolling over. With this in mind, USD/SGD's ascent might start to slow.
Above the market, the July high at 1.4100 caps the upside. While the 50-DMA provides support. A break of either of these levels should encourage a continuation move.
USD/SGD Price Chart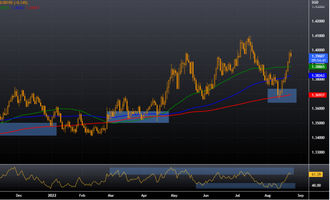 Elliot Laybourne
Elliott is a former investment banker with a 20 year career in the city of London. During this time he held senior roles at ABN Amro, Societe Generale, Marex Financial and Natixis bank, specialising in commodity derivatives and options market-making. During this time, Elliott's client list included Goldman Sachs, JP Morgan, Credit Suisse, Schroders Asset Management, and the Pennsylvania State Public School Employees Retirement System, amongst others. Today, he splits his time between Thailand and Dubai, from where he provides trading consultancy and business development services for family office and brokerage clientele.