Checklist for Moving to Ireland
We have written a short checklist to keep your move to Ireland as smooth as possible. So, you should never forget about your:
Passport

All required visa documentation and paperwork

Drivers license

Medical records

Birth certificate (and the certificates of your spouse and children)

Covid vaccine documentation

Diplomas and relevant certifications

Marriage certificate
Irish Visas, Work Permits, and Residency Requirements
Now, the most important part of moving to any country is understanding its visa requirements. Keep in mind that you won't need an Irish visa to enter the country (and stay for up to three months) if you're a Swiss, EU, or EEA (European Economic Area) citizen.
You can also visit Ireland for 90 days if you're a British citizen without a visa as well. Furthermore, there are special arrangements that can be made for Ukrainian citizens and residents.
With all that being said, there are two types of Irish visas:
Short-stay (C) visa

Long-stay (D) visa
Short-Stay Visas
Short-stay visas are pretty simple. These are intended for individuals who want to visit Ireland as a tourist or to visit friends and family, for business, or to attend a short course.
Other acceptable conditions for a visit include getting married, taking part in a performance or a competition, receiving medical care, being part of an unpaid internship, attending a conference or event, as well as to sit an exam.
Long-Stay Visas
Note that EU, EEA, and Swiss nationals need to show evidence that they can financially support themselves and their family if they want to stay for longer than 90 days (or have proof they are a student or trainee).
For other countries, there are several long-stay visas you will need to apply for in order to stay longer than 3 months. The most important ones are:
Irish work visa — this is an option if you have a job offer in Ireland or already have a work contract

Irish study visa — apply if you want to study at a higher education institution or a program from the Republic of Ireland ILEP list

Ireland researcher visa — you can apply if you will be performing scientific or academic research in the Republic of Ireland

Volunteer visa — if you will be performing volunteer work as part of a charity or a non-profit organization

Ireland family reunification visa — if you are immigrating to Ireland to join a family member who is living in Ireland

Retirement visa — you need to show that you can support yourself financially while living in Ireland
The duration of long-stay visas varies. For example, work visas are usually issued for 24 months at a time and can be renewed, while the study visa lasts for the duration of your studies.
Long-Term Residency
Now, you can apply for Irish permanent residency, or rather, long-term residency. In order to do so, you need to have been living in Ireland for 60 months, with an employment permit (or visa). This does not include the time you spent outside of the country, such as traveling abroad.
You can also apply and immigrate to Ireland permanently if you are a dependent or a spouse of another long-term resident.
When your application has been approved, you can live and work in Ireland freely. However, you will need to renew this permit every five years.
The Immigrant Investor Program
You can also get an Irish residency permit through the Immigrant Investor Program. If you choose to make an investment in the country, and become approved, you and your family will get an Irish residency permit, which allows you to live, work, and study in Ireland unobstructed for two years.
There are four options presented to you:
Invest a million euros into an Irish business

Invest a million euros into an approved investment fund

Invest two million euros into pre-approved Real Estate investment trusts

Provide a 500,000 euro endowment to a beneficial project in the Republic of Ireland
Naturalization
Now, as a long-term resident, you are not eligible to vote or hold a government job or public office. You also, essentially, become an EU member when you obtain Irish citizenship, with all of the rights that accompany this status. So, the next natural step to complete your move to Ireland is to become a citizen.
First, you can become a citizen if you have been married to another Irish citizen for at least three years.
The other way is by spending five of the last nine years in Ireland while also living continually in the year for a year before applying.
Note that you can keep your original citizenship once you become an Irish national.
Moving to Ireland
Moving Your Things
You can only move your things by plane or boat to the island. Keep in mind that it's cheaper to move your things by boat, but it takes significantly more time. Now, if you're moving to Ireland from the US, or any other non-EU/EEA country, keep in mind that customs regulations will be a bit different compared to an EU/EEA country. Namely, your customs allowances for alcohol and cigarettes will be significantly lower in the former case.
You also have restrictions and prohibitions when it comes to bringing in firearms, ammunition, explosives, plants, meat, dairy, and meat products.
Moving Your Pets
Your dogs and cats must be microchipped and have an EU passport with proof of rabies vaccination. Birds, rodents, and rabbits need to have an Advance Notice form submitted in advance as well.
If you're a non-EU or EEA country, requirements will differ based on whether your country is at a high or low risk for rabies.
Note that you can not bring more than five animals with you.
Moving Your Vehicle
Whether you're immigrating to Ireland from the US or any other country (no matter if it's an EU/EEA country or not), you will need to register any vehicle you bring with you.
You will also have to pay VRT, VAT, motor tax, and motor insurance. Moreover, non-EU citizens need to pay customs duty as well.
VAT for EU citizens is applied when registering the vehicle. For non-EU countries, a 23% VAT rate must be paid once the vehicle enters the European Union.
Vehicle Registration Tax depends on various requirements, but you can always use the official calculator to get an estimate.
Vehicles older than 4 years need to be tested by the Irish National Car Testing Service.
Note that requirements differ for UK citizens.
Adapting to Life in Ireland
Culture and Language
Right off the bat, we can tell you that any Westerner will easily fit in with the Irish people. You likely will not experience much culture shock.
Everybody speaks English, but Irish, or Gaelige, is also present in everyday life. Finally, know that the stereotype of the Irish being very hospitable and generous is true.
Weather
Another, less fun, stereotype that happens to be true is the rainy weather. Mist and rain are common occurrences throughout the island. Even the best places to live in Ireland have crummy weather, but the green landscapes make it worth it.
As far as temperatures are concerned, the weather over the entire island is pretty much consistent, being rather moderate, with snow and extreme heat being rare.
Cost of Living in Ireland
Just like in the US, or any country for that matter, the average expenditures for a household vary from region to region. Still, let's compare some averages, as well as the costs in two major cities, namely, Dublin and Seattle.
Now, the average cost of living for a household in the US amounted to roughly $66,928, or $5,577 per month, in 2021. In the Republic of Ireland, a family of four needs to budget around $66,528 annually, or $5,544 per month.
Now, let's say part of your immigration to Ireland involves living in Dublin. Comparing Dublin to Seattle, you'll notice the numbers are pretty similar.
Average rent in the US amounts to $4,684, whereas in Ireland, it's around $2,113. However, in Dublin, a one-bedroom apartment outside the city center amounts to $1,775, while in Seattle, it's $1,903. A three-bedroom apartment will set you back by $3,212 per month in Seattle, while in Dublin, it's $1,755.
Basic utilities are very close, where they average around $236 in Seattle and $239 in Dublin.
You will also be happy to know that, living in Ireland as an American, food prices are also pretty similar. An average household in the US can expect to spend around $8,289 per year, while in Ireland, it's at $8,267. This includes food both at home and outside of it (fast food, restaurants, snacks, etc.).
Gas, however, is much cheaper in the states. A liter in Seattle will set you back $1.35 ($4.9 per gallon), while it's $2.13 ($7.8 per gallon) in Dublin (at the time of writing this article). Note that we used the average price among all octane ratings.
Finally, a monthly gym membership costs, on average, around $60 in Seattle and $49.72 in Dublin.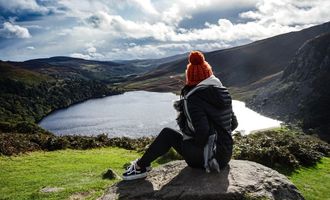 Cheapest and Most Expensive Cities in Ireland
Like any other country, prices can vary significantly from region to region and place to palace. For that reason, we have written out a list of the cheapest places to live in Ireland and the most expensive.
Most affordable places in Ireland:
Carrick-on-Shannon, County Leitrim

Waterford City, County Waterford

Gorey, County Wexford
Most expensive places to live in Ireland:
Dublin, Country Dublin

Malahide, Country Dublin

Cork, County Cork
Transport and Infrastructure
If you're wondering — yes, the Irish do drive on the left. Keep that in mind when relocating to Ireland unless you want to get into trouble by sheer force of habit.
Now, Ireland is well connected by trams, trains, and planes. It also has a solid infrastructure with a good road network connecting all the major hubs.
If you live in cities such as Dublin, Cork, or Galway, you can completely rely on public transportation without really needing a car (unless you commute). The trams and buses are in great shape compared to some other European countries and are pretty affordable, too.
Taxis in Dublin have a minimum fare of €4.10 (which gives you the first kilometer), and the price amounts to roughly €1 per kilometer.
Working in Ireland
If you're thinking of living on the Emerald Isle, and especially if you're planning on moving to Dublin, you'll be happy to hear that the unemployment rate, while a bit higher than the OECD average, is still pretty low. Being at 6.63% in 2021, it's just three percentage points higher than the US.
With that in mind, you won't have too much trouble getting employment in Ireland.
Work Culture and Worker Rights
Worker rights are much more respected in Ireland compared to the US. The average maternity leave in America lasts for ten weeks, while in Ireland, you are entitled to 26 weeks. Furthermore, the partner not taking maternity leave is also entitled to two weeks of parental leave.
You are also entitled to four weeks of paid annual leave and ten public holidays. Plus, you cannot work for more than 48 hours per week in Ireland.
Salaries and Job Opportunities
The average annual salary in Ireland is around $47,369, while in the US, it's $54,132 a year. But, of course, salaries vary based on profession and region. The minimum wage in Ireland is $12.12, compared to the US, where it ranges (by state) between $7.25 and $15 per hour.
For example, an accountant can make around $73,303 in the US, on average, per year. In Ireland, they can make, on average, $55,866. A dentist just starting out makes $123,332, while in Ireland, he or she can make $80,592.71. Finally, a software engineer can make $48,427 in Ireland, while in the US, it's $110,140.
Note that while these salaries seem to vary to a significant degree, you need to consider the size of the US compared to Ireland. The salary for a software engineer in San Francisco will definitely be higher than the salary you can get in Cork but do consider the differences in lifestyle and local prices.
If you have the skills and the grit, there are many jobs in Ireland for expats. You should know that Ireland has a strong economy, and some even consider it the Silicon Valley of Europe. Namely, the tech sector is booming, with Google, Apple, Facebook, PayPal, and LinkedIn all branching out their offices into the Republic.
You can also find jobs in financial services, take part in its growing startup scene, or find a job in call centers. These call center jobs are especially attractive to expats, seeing as they value highly multilingual employees.
Irish Healthcare
If you're from an EU/EEA country or Switzerland, you can use your EU Insurance card and get treatment for free. If you're a visitor moving to Ireland from the USA or any other country not listed above, you will need to get travel insurance.
However, if you have proof that you will live in Ireland for at least a year, you will get access to its free, subsidized healthcare.
You can also always visit a private doctor, for a fee.
School and Higher Education in Ireland
The educational system in Ireland is very good. In fact, Irish teenagers are second only to the Fins in terms of reading literacy. Their students consistently rank above average in their academic performance, as well as their scientific and mathematical literacy.
Furthermore, if you're thinking of an Ireland relocation for educational purposes, know that their higher education system is among the top twenty in the entire globe.
Finances, Taxes, and Remittance
A big part of emigrating to Ireland requires you to understand how taxes and banks work. However, the first step is opening a bank account as a non-resident.
Namely, you can open a bank account as any regular citizen of Ireland. All you need to do is contact a bank and present proof of identification (a passport, your visa, or an Irish/EU driver's license), as well as proof of address (a utility bill or a lease).
Remittance, Bank, and Transfer Fees
Now, what if you want to send or receive money, and are worried about bank fees and remittances?
One option is using a bank. However, they often have transfer fees (which vary, depending on the bank and on the sum being transferred), as well as a 4-6% markup on exchange rates.
Your best bet is using some kind of online service, whether you want to send money to the States from Ireland or receive money from the States (or whichever other country of your choice).
Taxes
First of all, if you truly want to relocate to Ireland, keep in mind that if you spent more than 182 days in Ireland during a tax year, you would have Irish tax residency status. That means any and all income coming from abroad will have income tax applied to it.
As far as income tax rate goes, you will have 20% of the first part of your income taxed. This part of your income is known as the standard rate cut-off point. Anything above the cut-off point will be taxed at 40%.
The 2023 cut-off points depend on whether you are single (anything above €40,000 will be taxed 40%), married with one income (€49,000), married with two incomes (€80,000), and if you are the provider of a one-parent family (anything above €44,000)
You will also have to pay Local Property Tax (LPT) if you own property in Ireland. The LPT rate is based on the value of your property.
Note that there are many tax credits and relief options available.
Starting and Running a Business
Now, are you an expat in Ireland thinking of starting your own business? If you're an EEA or Swiss citizen, you do not need any special permissions and documentation in order to open a business (compared to a regular Irish citizen).
However, if you are not a Swiss or EEA citizen, you can try out the Immigrant Investor Programme, which we've already explained in detail in the visa section of this article.
The other option is taking part in the Start-up Entrepreneur Program (STEP), which lets you start an innovative business with a couple of requirements (one of them having a €50,000 starter investment).
There is no other way to open a business as a foreign national in Ireland.
Marrying and Starting a Family in Ireland
There are very few restrictions placed on foreigners who want to marry an Irish citizen. Most of these restrictions, besides the added paperwork, revolved around the Registrar checking whether you are simply marrying in order to gain permanent Irish residency through marriage.
You do this by meeting the registrar five days before your marriage, and you and your spouse have separate interviews with said registrar.
Note that since 2015, same-sex couples have had the right to marry legally in Ireland and have the same legal statutes, rights, and obligations. The same goes for adoption.
Buying Property in Ireland
If you're thinking of moving to Ireland permanently, you should think of buying some property, if not sooner than later. You'll be happy to learn that there are no restrictions on foreigners buying property in Ireland.
However, buying a home does not mean you automatically gain a long-stay visa. Furthermore, you might have some trouble getting a good deal on a mortgage without a long-stay residence status.
As far as prices are concerned, let's go back to our Seattle/Dublin example. An average price per square foot for an apartment outside the city center of Seattle will set you back $493, while the same in Dublin will cost $447.
Retiring in Ireland
If you want to emigrate to Ireland, you can, under certain conditions.
First, if you come from the EU or a country that has a Bilateral Social Security Agreement with Ireland, your pension right will be protected and covered.
You can also get a contributory state pension based on your Pay Related Social Insurance contributions.
The above is relevant if you have been living, or planning on living, in Ireland for more than a short stay. However, if you wish to retire directly, the main condition is proving you are a person of independent means.
That means you have a yearly individual income of €50,000, as well as access to a sum that can cover any sudden expenses. This sum depends on the location you want to retire to. For more information, you will need to submit an application with all relevant forms and documentation to the Irish Immigration Service.
To Sum Up
And there you have it, folks, an in-depth guide on moving to the great Republic of Ireland. Moving to a new country is a daunting endeavor, but if you practice due diligence and make the plunge, you will fall in love with the Emerald Isle in no time.
FAQ
Is it worth moving to Ireland?
Can US citizens move to Ireland?
How much money do you need to immigrate to Ireland?
Aleksandar Hrubenja
With a BA in English literature and linguistics, training provided by veteran licensed court interpreters, and direct SEO management experience, Aleksandar Hrubenja knows what good content looks like. He's tackled any topic thrown his way, spending the last six years writing articles on SEO, digital marketing, and finance - just to name a few.