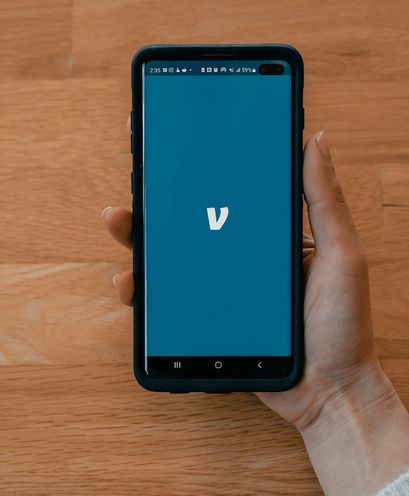 Amazing Venmo Statistics & Facts (2023 Update)

Martynas Pupkevicius
Venmo is a mobile money transfer company that was founded in 2009 and has been owned by PayPal since 2012. Initially, Venmo was developed on the idea of allowing family and friends to split the bill when going out. The peer-to-peer technology also allows users to hold money in their accounts. 
In this article, we'll uncover key Venmo statistics that outline its popularity, revenue, and why it's still going strong in 2023.
Let's dive right into it!
Top 10 Venmo Statistics & Facts for 2023:
There are over 83 million Venmo users.

$60 is Venmo's average transaction amount.

Over two million merchants accept Venmo.

People aged 25 to 34 are Venmo's biggest demographic.

2,000,000 merchants accept Venmo in the United States.

Venmo's revenue in 2020 reached $850 million.

Venmo has a yearly growth rate of 29%.

There are over 516 million daily Venmo transactions.

Venmo reported a payment volume of $230 billion in 2021.

Over a period of one year, 68,000 Venmo transactions included an emoji.
General Venmo Statistics 
Over 83 million people use Venmo.
This is an impressive figure considering the fact that Venmo is only available in the US. Moreover, it's the most commonly used app to send money between friends. The lack of fees is the main reason why Venmo claimed the top spot in this category.
Zelle is the app most popular for bank-to-bank transfers. While for online payments, PayPal still reigns supreme.
(Venmo)
PayPal acquired Venmo when they bought Braintree for $800 million in 2013.
Braintree, a Chicago-based company that focuses on web and mobile payment solutions, first acquired Venmo for $26.2 million in 2012. Merely a year later, Venmo was part of the package when PayPal acquired Braintree. However, it proved to be a great investment for PayPal because Venmo's valuation hit $38 billion in 2020!
(Forbes)
The average Venmo transaction amount is around $60.
Venmo's average transaction size is much smaller than its main competitor Zelle's, which averages around $300 per transaction. This could be because friends use Venmo to send each other smaller amounts of money whereas people mostly use Zelle for bank transfers. 
(MarketWatch)
Between March 2020 and March 2021, 68,000 Venmo transactions included an emoji.
You can send emojis with money using Venmo. This allows Venmo's active users to express a thought or feeling with an emoji instead of using text.
The high use of emojis indicates that many transactions are based on sending love or celebrating an event. The heart-shaped emoji accounted for 3% of transactions and was the most commonly used emoji.
(QUARTZ)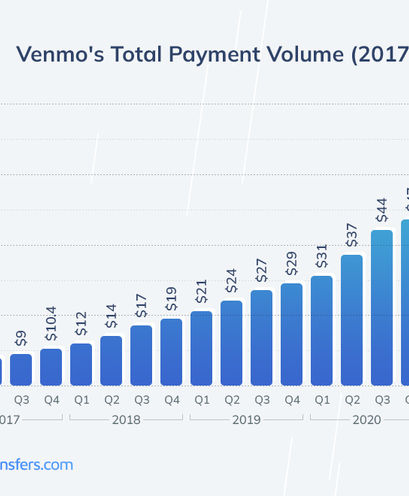 32% of February 2022 survey respondents said they used Venmo in the past year. 
With about a third of randomly surveyed people confirming that they use Venmo, it's clear how widespread Venmo use is in the United States. However, the parent company, PayPal, still dominated in the same survey with 85% of active users. Overall, Venmo is showing promise since it is filling a gap in the marketplace and the number of Venmo users is growing by the day.
(Statista)
2,000,000 merchants accept Venmo in the United States.
The large number of merchants accepting Venmo in the US contributes to the growing user base and transaction volume. Merchants understand that Venmo is an increasingly desired method of checking out to pay for goods and services. 
Therefore, it is in the best interests of an online store to provide Venmo as a payment method. This can potentially increase sales for the store as some people may only use Venmo for purchases. 
(Business Wire)
47% of Amazon customers expressed a desire to pay with Venmo.
Amazon is the biggest ecommerce platform in the world. Also, almost half of its users showing interest in Venmo is a strong sign of approval for the payment app. Eventually, Venmo usage was allowed on Amazon's platform, so it is now an accepted payment method. 
(Statista)
Venmo User Demographics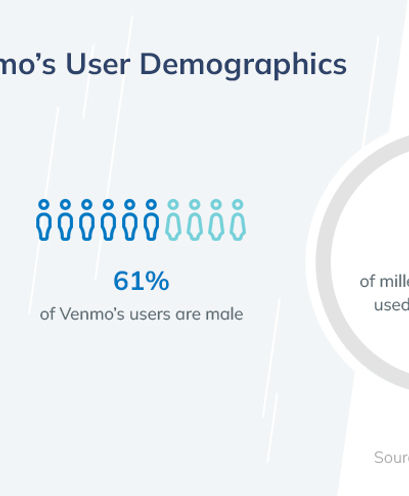 61% of Venmo's users are male.
Venmo user statistics show that there are more males using Venmo than females. In contrast, the ratio of male vs female PayPal users is 53/47. Therefore, the gender balance of users on PayPal is more evenly split.
(Media Post)
32.6% of millennials said in a survey that they used Venmo to pay for drugs.
Venmo is a discreet and accessible method for sending money to other users. Therefore, it is a viable method of illegal activity. The lack of regulation and oversight over new fintech technologies means users have more freedom than with traditional banks. 
From the same survey group, 21% shared that they used Venmo to pay for gambling activities. This includes poker, fantasy football, and sports betting.
(LendEDU)
50% of Venmo's active users are aged 25 to 34.
This means that half of all Venmo users are millennials. This is not surprising since the young population is more likely to adopt new technologies. At the same time, only 30% of PayPal users fall into this age group. Therefore, Venmo can acquire new users by making its service more appealing to older generations.
(Media Post)
Venmo Trends 
Venmo reported a payment volume of $230 billion in 2021, up 44% over the previous year.
The increase in Venmo's annual revenue during 2021 is partly because of the explosion of ecommerce during the Covid-19 pandemic.
Also, they are providing simple to use features that consumers need to execute online payments. The low fees through the peer-to-peer network provide advantages over credit card companies that demand charges for their transactions. 
(PYMNTS)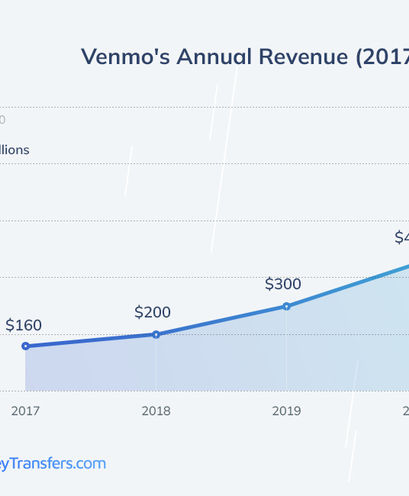 In 2021, Venmo generated around $850 million – an increase of 88% over 2020.
These Venmo revenue numbers indicate enormous growth. The brand is constantly developing to improve the quality of its service. Also, having the backing of its parent company, PayPal, ensures they are in the best position to capitalize on the market. 
(Money Pantry)
Venmo's growth is 29% year over year.
This massive growth rate indicates that Venmo kept reinventing itself for over a decade. Under the stewardship of PayPal, they are doing things right to attract many Americans and expand their user base. The rise of ecommerce in recent years is contributing to the growth of Venmo, but they are also proving good value that competitors are having trouble matching.
(Statista)
83% of responders in a 2017 study did not use Venmo. 
This statistic shows that just a few years ago the majority of today's Venmo users did not use the app for sending money online or paying for goods. Nowadays, up to two-thirds of people have used it during the last 12 months. Therefore, the adoption rate of Venmo has been impressive since 2017. 
(Statista)
Venmo Mobile App Statistics
Venmo has a Google Play rating of 4.2 and an App Store rating of 4.9 out of 5. 
This indicates that the Venmo app offers excellent functionality and the features perform as expected. The higher rating on the App Store indicates the iOS version is doing better than the Android one. However, both have relatively high scores compared to competing apps. This is a strong indication that a high number of Venmo users are happy with the app.
(Google Play, App Store)
83 million people use the Venmo app.
The 83 million people using the Venmo app are located in the United States. That's because the app is currently only offered to users who are physically in the US. Users that try to sign up abroad will receive an error message.
(Venmo)
65% of young people who use mobile payments share that Venmo is their primary option. 
It is no surprise at all that the younger population makes up a large percentage of Venmo's user base. They are the group that traditionally accepts new technology at the fastest rate. Moreover, Venmo's marketing efforts actively target younger people as a growing market of online payment and money transfer users.
(LendEDU)
Venmo FAQs
How long has Venmo been around?
How many people use Venmo?
How much does Venmo make a year?
How many Venmo transactions are there per day in the world?
The Bottom Line
The Venmo stats above indicate that this fintech company is one of the market leaders in the United States. Over the last decade, it has constantly increased the number of users, revenue, and transactions. During the last few years, in particular, Venmo received an explosion in activity, and therefore its valuation skyrocketed.
However, they are still a shadow of their Parent company, PayPal. Perhaps more funds and investment will be poured into Venmo to capitalize on the success they have had in recent years. We'll keep an eye on this company in the coming years to likely watch the Venmo market cap explode even further.
Sources:
Martynas Pupkevicius
Martynas is a seasoned freelance writer that has written on a broad range of topics over his 10 year career. He enjoys diving into the research and sharing what he's learned with readers.