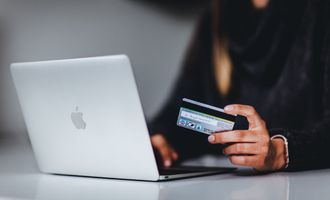 Revealing Online Banking Statistics & Facts 2023

Martynas Pupkevicius
Online banking provides customers with the convenience of paying online bills, transferring money to loved ones, and making deposits from the comfort of their homes. In this article, we will be delving deeper into the most revealing online banking statistics that will give you an informed insight into this increasingly popular way of banking. 
Without further ado, let's get started!
Top 10 Online Banking Statistics & Facts for 2023:
The first online-only bank launched in 1995.

Chatbots will save online banks $7.3 billion by 2023.

82% of customers won't switch banks because of the online banking platform.

European online banking doubled from 2007 to 2018.

Denmark and the Netherlands have the highest online banking adoption rate.

Banking apps are used as the primary banking method by 39% of consumers.

There will be 216.8 million digital banking users by 2025 in the US.

The number of global online banking users will exceed 3.6 billion by 2024.

25% of customers prefer to use bank branches instead of online banking.

India is the top mobile banking country in the world.
General Online Banking Statistics
Online banking first started in the 1980s. 
You may think of online banking as relatively new, but it has been around for over 40 years. However, it was not until the 90s that the practice started to become more popular. The development of the internet and mobile devices has allowed online banking to become practical. 
Nowadays, you can find online banks without any physical branches, which was an unheard-of online banking fact just a few decades ago.
(Investopedia)
The Far East and China accounted for 800 million online banking users in 2020.
These regions show the fastest growth in the history of online banking. It is projected that by 2024 there will be nearly 1 billion internet banking users in these regions. 
The number of developing countries and cities in these regions is among the largest in the world, which might be a reason why the growth rate here is the biggest. 
(Statista)
Security First Network Bank was the first fully digital bank and it went online in 1995.
This was the first US internet-based bank without branch offices. The lower overheads because of the lack of physical branches meant they could provide customers with a better deal. They can offer higher interest rates for customers holding money with the bank and lower service fees. 
When online-based banks launched, customers loved the flexibility of being able to open an account online and complete transactions from the convenience of their homes. 
(Investopedia)
$7.3 billion will be saved by chatbots by 2023 for banking customer services.
This represents a massive amount of savings for the global online banking industry. It means banks can automate their customer service and offer it 24/7. However, customer satisfaction with AI-based customer service may need improvement. 
The amount of work hours this will save for banks in 2023 is 862 million, which is half a million working years. Also, the reduced operational costs can lower the fees for banking consumers. 
(Juniper Research)
82% of banking customers mentioned that they haven't switched banks because of the online or mobile banking platform. 
Online banking is an excellent retention tool for banks, according to the latest digital banking statistics. Most customers expect good online services nowadays. Therefore, upgrading banking platforms for financial institutions could be a viable method of increasing their customer base. 
Banks that offer the top online banking platforms have a competitive edge in recruiting new customers. 
(ConsumerAffairs)
Digital banks can offer 1-2% more APY than traditional banks.
The annual percentage yields offered by digital banks are higher because they have lower costs. This means the savings can be passed down to customers using online banking. Also, there are many online banks fighting for new customers, which means they are naturally incentivized to provide the best deals. 
(Investopedia)
Online Banking Trends
By 2024 the number of online banking users will exceed 3.6 billion.
That means a large part of the world's population will be using online banking instead of visiting bank branches for everyday banking services. The growth reflects the improved infrastructure of online banking and the availability of online services in developing countries.  
Also, the majority of the growth is driven by internet-only banks. These can provide the best deals for customers because of the lower overheads. Therefore, the future of mobile banking looks bright.
(Juniper Research)
63% of US banking customers are more likely to use digital banking apps after the pandemic.
The Covid-19 pandemic accelerated the use of many online technologies, including digital banking. Customers that could not visit a bank branch were forced to download mobile apps and figure out how to use them. 
When banks reopened after the peak of the pandemic, many customers experienced the advantages of mobile banking apps first-hand and decided to continue using them. 
(Lightico)
The number of digital banking users in the United States in 2025 is projected to be 216.8 million.
According to online banking statistics, the number of digital banking customers will continue to grow by 2025. However, the rate of growth this decade will be slower compared to last because a large number of the US population is already using digital banking. 
Perhaps the number of functions performed online will increase as more features are added for digital banking customers. 
(Statista)
European Online Banking Usage Statistics
The number of Europeans using internet banking doubled from 2007 to 2018.
This trend is still growing, which is unsurprising given that more users are becoming tech-savvy and smartphone usage has increased massively. Back in 2017, only 25% of banking consumers used digital banking, whereas the number in 2018 grew to 51%. 
(Eurostat)
68% of 25- to 34-year-old Europeans use digital banking services.
Recent trends in online banking also indicate that a higher portion of younger customers is using online-based services compared with older consumers. This makes sense because the older population is accustomed to classic banking and may not feel the need to make the change. Meanwhile, the younger consumers learned how to use the internet during school and understand the advantages of online services and how to use them. 
(Eurostat)
The EU member states with the highest percentage of digital banking users are Denmark (90%), Netherlands (89%), Finland (87%), and Sweden (86%).
The stats on online banking in these countries show how truly ubiquitous it is in the EU. Advertising the benefits and pushing people to digital services likely increased the adoption rate. These statistics are for the entire population, too. For instance, the 90% rate for the Danish population refers to 16- to 74-year-olds.
(Eurostat)
EU member states with the lowest number of online banking users are Bulgaria (5%), Romania (7%), Greece (25%), and Cyprus (28%).
People in these countries still vastly prefer traditional banking. National banks might not have advanced internet banking services or are not advocating enough for internet-based features, so consumers simply do not know about their advantages. 
(Eurostat)
Stats on Mobile Banking Usage
India is the top mobile banking country in the world.
India is a large country with many rural areas that do not have good access to bank branches. Therefore, the high adoption rate for online banking services is not surprising. Mobile banking statistics reveal that 55.4% of Indians are using mobile wallets to pay for goods. 
Part of the reason for the high adoption rate is government policies to promote electronic payments. This creates a cashless society where Indians are encouraged to use digital payment methods. 
(GlobalData)
95% of users have confidence in banks to protect their mobile banking platforms and online data.
Most users are happy with the security measures their banks provide to protect their money. Part of the security comes from the fact that money held in consumer bank accounts is insured for up to $250,000. This means customers will receive their money if there is a breach of security. 
(ConsumerAffairs)
89% of US banking customers use online banking.
The usage of mobile banking is very high in the US. In fact, the number of millennials that use mobile banking is 97%. The pandemic may have accelerated the trend as people were not able to visit bank branches for their banking needs. 
Most banks have caught on to customer desires for using their service digitally and are constantly innovating to keep up with the latest technological trends.
(Insider Intelligence)
39% of consumers use banking apps as their primary online banking driver.
Mobile banking apps can be used while you are out and about. The freedom of location and convenient user interfaces has caused mobile banking to trend upwards. Almost every bank nowadays offers a mobile banking app that allows customers to perform many of the same functions as the desktop. 
(Lightico)
47% of mobile banking consumers feel turning off card payments via the app is extremely valuable. 
Security is a big concern in online banking. As frauds and scammers use increasingly more sophisticated techniques, customers expect banks to provide a suite of security features to combat the possibility of losing money. 
(Insider Intelligence)
Online Banking vs Bank Branch Statistics
20% of banking customers prefer to visit a branch instead of using online banking.
This shows that most customers are happy to use online banking instead of going to a bank branch. However, banks need to strike a balance between offering both services. Otherwise, they will alienate 20% of their customer base, which would be bad for business. 
(ConsumerAffairs)
66% of the credit union and online bank services customers are satisfied with the service.
The majority of users showing a positive attitude towards online banking services means that the industry is heading in the right direction. However, there is still a lot of room for improvement to get the other third to feel the same level of satisfaction. 
(ConsumerAffairs)
Online Banking FAQ
How is mobile banking different from online banking?
What banking activity do most consumers use online banking for?
What banking activity do most consumers use mobile banking for?
What percentage of bank customers use online banking?
How many people in the UK use online banking?
How many people use online or mobile banking?
Which country uses online banking the most?
Conclusion
The online banking stats on this page show a clear trend that the adoption rate of the industry is growing around the world. A combination of technological advancement and the pandemic has incentivized more users to switch from traditional bank branches to online banking. 
Digital-only banks are also improving interest in online banking. That's because they can offer the best deals. The lack of physical branches means they can save money and offer customers lower fees. Expect the industry to evolve as technology changes and this will change the digital banking statistics. One thing is for sure – it's here to stay and will continue to evolve with the times.
Sources:
Martynas Pupkevicius
Martynas is a seasoned freelance writer that has written on a broad range of topics over his 10 year career. He enjoys diving into the research and sharing what he's learned with readers.