Moving to Colombia Checklist
Regardless of your reason for moving to the country, the below mini-guide should be your starting point for a smooth transition.
Research expat forums to see if Colombia is the right fit for you

Pick a city with housing and transport options suitable for you

Ensure your passport is in order

Check vaccination requirements

Figure out visa and residence permit requirements

Check if you're eligible for work

Gather records that you may need during your stay in Colombia (you might need to translate some of them)

Buy a local SIM card
Visas, Work Permits, and Residency Requirements
Americans, Canadians, and most Europeans are on the visa waiver list, which permits them to stay for 90 within 180 days. For more extended stays, Colombia has 21 different visa categories, of which the business, temporary, and resident visas apply to expats. However, to find out which long-stay Colombian visa you're eligible for, the best thing is to first contact the nearest Colombian embassy.
Work Permits
There are several types of Colombian visas for business purposes, depending on whether you will be just working in the country, investing, or doing business. You can obtain a business visa based on two levels of investment. For lower-level investments, you can get a Migrant Colombian Business Owner visa valid for 1-3 years, while high-level investments will make you eligible for an investment visa similar to a Colombian work visa.
There is also the temporary work permit which, depending on the circumstances, has 16 subcategories. The TP-4 work visa is usually eligible for expats planning to move to the country. The essential TP-4 requirement is for the applicant to have an employment contract with a company based in Colombia.
As with other countries, work permits in Colombia are valid from the beginning until the end of the employment contract. But if you have the correct paperwork, you can extend it for longer. This visa will also serve as the basis for the holder's immediate family to apply for the beneficiary visa.
Residence Permit
People who've held one of the several temporary visa types for at least five years are eligible to apply for a Colombian resident visa. The key benefit of this type of visa is that it allows its holder to take up any employment. Moreover, this permit has a duration of up to five years with an option to renew it.
Note that no matter what type of long-stay visa you have, as a foreigner, you are obligated to register with the Immigration Office of Colombia within 15 days of entering the country to get a foreigner's identity card.
Moving to Colombia
Colombia is a culturally rich country with a long history of welcoming foreigners and a thousand-year-old tradition of diverse peoples. Foreigners, Europeans especially, have been arriving in the country since the colonial period.
Thanks to the improved quality of life, security, and business opportunities, there has been a new influx of foreigners. Data shows Venezuelans lead the pack of expats in Colombia with over 1.7 million, while Americans comprise the second largest group. Bogotá, Medellin, and Cali, the country's cultural and economic hubs, are cities where most expats currently reside.
Moving to Colombia With Pets
Colombia is pet-friendly and does not require an import permit or microchips for personal pets. But you will have to provide a health certificate, ticks, tapeworm treatment, and rabies vaccination 30 days before your travels. Once you enter the country, you must declare your pet with the Instituto Colombiano Agropecuario (ICA), which will check the papers and perform a physical inspection to verify the animal is healthy.
Adapting to Life in Colombia
Colombia ranks 4th in the world for ease of settling in. But of course, as with any transition, you would need some time to adjust to the country's air, food, and customs. Luckily, 70% of expats living in Colombia say finding friends there is a breeze, and 46% declared they mostly have local friends and acquaintances. However, you should probably start learning Spanish as not many Colombians speak English.
From jaguars to caimans to poison dart frogs, Colombia's undisturbed forests are home to 10% of all animal species. Between Bogotá sitting at an altitude of 8,600 ft and Medellin spreading at 4,905 ft, Colombia's landscapes are as diverse as its culture.
The country has such a wide range of ecosystems because it has three different climatic zones, cold, temperate, and tropical, with a mean annual temperature of 25 °C. Though just like other countries in the region, Colombia has floods, earthquakes, and hurricanes, so it's always good to stay informed, especially during the El Niño and La Niña seasons.
Food is yet another story. Colombian cuisine has lip-smacking delicacies like the arepas, sancocho, and the famous bandeja paisa. Buñuelos and mango biche are popular street foods, and then there's the world-famous Colombian coffee.
In fact, the Colombian Coffee Growing Axis is inscribed in UNESCO's cultural heritage list. So, if you're going to be living in Medellin, Colombia's capital of the Antioquia province, you should experience their coffee farmlands in person.
In regards to security, despite the massive improvements, muggings, pickpocketing, and burglaries happen, so the best you can do is avoid poor neighborhoods and stay vigilant.
Finally, Colombians are a nation of holidays and tend to extend holidays falling on Thursdays or Tuesdays into ultra-long weekends. So if you're planning any business appointments, always check the calendar.
Cost of Living in Colombia
81% of expats residing in Colombia are satisfied with the cost of living in the country. This percentage is nearly double the global average, currently at 48%. In addition, 88% of expats say their disposable household income is more than sufficient to cover the basic living expenses in the country.
Whether you're moving to Colombia from the US, Canada, or any other country, you should know that food is the most expensive item on which Colombian households spend a total of COP16.97 trillion (or $4.5 billion), followed by housing with COP15.44 trillion (or a little over $3 billion). Transport and communications, wellness, entertainment, and eating out are also listed as items that burden the household budget. But don't let the numbers scare you. The cost of living in Bogota is 62% lower than that of New York.
And while life in Colombia is more affordable than in the US, housing is a bit tricky as many locals live in rented and sublet apartments. The homeownership rate in Bogotá is as low as 33.1%, meaning rent is a significant source of profit for landowners. Nevertheless, it's still cheaper than in the US. For instance, a six-month rent for a one-bedroom apartment in Bogotá is around $2100. Other reports say renting a one or two-bedroom apartment ranges from $325 to $1,300 per month.
To sum up, the monthly budget of a single person moving to Bogota, Cali, or Medellin can be as low as $1,030 a month. But, if you're dining out often, be prepared to add an extra $1,000 to this amount.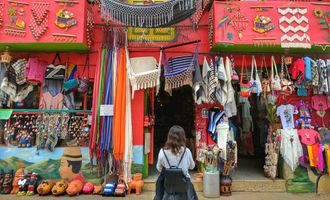 Cheapest and Most Expensive Colombian Cities
With serene beaches on both the Pacific Ocean and the Caribbean Sea, volcanoes and snowy mountains expanding through the center, vast deserts in the north, and the Amazon Basin in the south, it is challenging to pick the best place to live in Colombia. Medellín, also known as the City of Eternal Spring, is a top destination for many expats, though if you're more of a beach person, Santa Marta should meet your standards.
Medellín is also the most expensive, as per the latest data. The cost of living in this particular city is the highest, and as of 2022, stands at 1.46%. Other expensive Colombian towns are:
Valledupar

Cucuta

Pereira

Sincelejo

Bogotá
If, however, you're looking for the cheapest place to live in Colombia or a city where you can live below $1,000 per month, then you should try Barranquilla, conveniently located on the Caribbean coast, where rent is as low as $775 per month. Other affordable cities are:
Armenia

Villa de Leyva

Bucaramanga

Cartagena

Popayán
Transport and Infrastructure
Colombia boasts a roadway network of 205,379 km, and considering it's one of the largest countries in the Americans, it's pretty well connected. Regarding air transportation, the country has 48 airports, 13 of which operate international flights. If you're moving to Colombia from the USA, you can opt for American, Delta, United, JetBlue, and Spirit, that currently offer direct flights.
In addition, Colombia has an affordable and reliable bus system though the best way to navigate around any big city is on foot. Also, motorcycles, Colombia's favorite means of transport, are literally everywhere. Taxis are also an option and so is buying or renting a car.
Working in Colombia
Even though the unemployment rate in Colombia is 13.4%, the country remains appealing to foreign investors, with the US, Panama, and the UK leading the pack. This year FDIs in Colombia increased by $4.8 billion, which is good news for foreigners as it means lots of jobs for expats in Colombia. Moreover, although most expats resort to teaching, the finance, IT, healthcare, and sales sectors also need more high-skilled employees.
Recently the minimum wage in Colombia increased to COP1,000,000 per month or a little over $200. However, if you're considering Medellin or Bogota as destinations, with the right skills, you will definitely find many better-paid jobs. The best-paid professions in Bogota, for instance, are executives, pharmacists, accountants, office managers, and sales managers, with annual wages ranging from around $41,000 to $83,000 a year.
Healthcare for Expats in Colombia
Colombia has a universal healthcare system available to all citizens and legal residents. In fact, Colombia ranks 22nd out of 191 countries and, as such, has the best healthcare system in Latin America. Moreover, as a developing country, it sets an example with affordable and top-notch public and private insurance plans and reputable and well-equipped facilities.
In regard to health insurance in Colombia for expats, there are two options available. One is the Entidades Promotoras de Salud (EPS) which is mandatory for most foreigners, especially the ones employed there. Or, the 'medicina prepagada', which requires extra payment and is like private health insurance as it offers better services than the ones of the EPS.
School and Higher Education
Colombia has a free and compulsory primary education cycle, 1st to 9th grade, with a two-year non-compulsory secondary education. There are also state-sponsored nurseries and daycare centers. Regarding literacy, Colombia scored the highest mark of 98.73% in 2020, which is well above the world's average.
Those planning to immigrate to Colombia with family should know that public education will be an option, though the standard varies significantly across the country, especially in rural areas. The upside, however, is that there are plenty of private and international schools that are not only attended by expats but also by the children of wealthier Colombians. Most of these schools are located in Bogotá, Medelin, and Cali.
Those relocating to Colombia for studies should know that Bogotá is the home of over 450,000 students and one of the best cities to study in Latin America, with the University of the Andes Colombia ranked first in the country and 598th in the world. The second best is the Universidad Nacional de Colombia.
Finances, Taxes, and Remittance
Colombia has both national and regional taxes determined by Congress. Income, excise, and VAT (which has a standard rate of 19%) are levied on all individuals and legal entities, national or foreign, with fiscal residency in the country. The respective municipalities determine regional taxes, on the other hand, within the legally established parameters. In September 2022, Colombia's tax revenue as a percentage of the GDP was 16.6%.
Types of Taxes for Expats
If you're an expat living in Colombia and have been living in the country for more than 183 days within a year, you qualify as a resident, which means you will be taxed on worldwide income and equity.
As of recently, the Colombian tax authority increased the adjusted tax value unit (UVT) to COP 38,004. And so, based on your annual income, you will be charged a progressive tax rate ranging from 0% for an income of 1,090 UVT to 39% for an income that exceeds 31,000 UVT. Non-residents are taxed only on the income and equity sourced in Colombia. The capital gains rate, on the other hand, is 10%.
If you're not moving to Colombia for work but wish to invest or start a business there instead, you should know that the country has a pretty high corporate income tax rate of 35% with an additional 35% branch rate and a 10% rate on profits remitted abroad that have been taxed at branch level. Moreover, financial institutions with annual income exceeding 120,000 UVT are also levied an additional surtax. The capital gains rate for entities, in most cases, amounts to 10%
Lastly, remittances in Colombia average $446.42 million, with the latest reports showing that thanks to the strong dollar, remittances to Colombia surpassed the $8.8 billion threshold.
Marrying and Starting a Family in Colombia
One of the benefits of living in Colombia is that no matter whether you're a foreigner or a resident, you can marry whomever you choose. Colombia was the fourth country in Latin America to legalize same-sex marriage.
Now, marriages in Colombia can be contracted in a civil or religious ceremony, but since you are a foreigner, we strongly recommend you opt for the former. Regarding the legalities, civil marriages are performed by a notary so if you're living in Colombia as a foreigner, the first thing you should do is contact one to discuss the required documents and other procedures.
Bear in mind that Colombian marriage laws leave room for interpretation, so paperwork may vary from one region to another. In any case, you will surely need a valid passport, certified copies of both spouses' birth certificates, and proof that you are eligible to marry, all of which should be translated into Spanish and authenticated with an apostille.
As far as starting a family goes, if both parents are Americans living in Colombia, the child will not receive Colombian nationality by birth. If both parents are legal residents or one of them is Colombian, then the child will be eligible to become a Colombian national.
Buying Property in Colombia
Another great thing about Colombia is that anyone can buy a property and the purchase process is the same for locals and foreigners. So, if you've picked your dream house and wish to buy it because you'll be moving to Colombia permanently, you only need a valid passport and enough money to complete the purchase.
In addition, depending on the size of your investment, you might be eligible for a residency permit. As far as taxes go, there is a 1% registration tax, another 0.50% registration fee, and notary fees amounting to 0.15% of the property's value.
Retiring in Colombia
The beautiful weather, world-class healthcare, and vibrant cities offer more than enough for people who wish to spend the summer of their lives in Colombia. The procedure for obtaining a Colombian retirement visa is pretty simple. And in addition to the usual paperwork that includes two passport-sized photos, an application form, and a visa fee of $175, you also need to have a pension or an income equivalent to three minimum wages in Colombia.
Is Moving to Colombia a Good Idea?
Living in Colombia can be a fantastic experience that comes at an affordable cost. Whether you opt for the lush urbanscape and diverse neighborhoods of Medellín and Bogotá or the crystal Caribbean waters of Santa Marta, as long as you are informed about the disadvantages of the country, most of which are specified in this guide, you'll have no issues adapting.
FAQ
What is the safest place to live in Colombia?
Is healthcare in Colombia free?
What are the disadvantages of living in Colombia?
Hristina Nikolovska
An internship in a digital marketing agency during her freshman year of university got Tina into content. A decade later, she's utilizing her educational background in English and knack for research to craft website content on crypto and ensure readers are fully informed. When she's not investigating the crypto market and expanding her knowledge, you'll find her randomly roaming cities and sunny coasts all over the world.