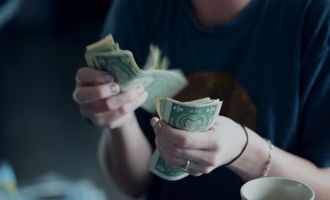 Revealing Personal Finance Statistics You Should Know

Dunja Radonic
Managing our finances is one of the trickiest parts of adulthood as it's so much more than budgeting and saving. With factors like recession that are out of our control, personal finance can be incredibly stressful, and many people feel like they might be falling behind. However, a bit more context and clarity offered by the latest numbers can help. For example, personal finance stats show the average American saving amount is around 5% of their income. 
So despite what some finance influencers say, not many people manage to save up huge portions of their cash in 2023. Still, they are benefitting from changing their financial habits. Dive into the numbers with us and learn more.
Let's start!
Top 10 Personal Finance Stats and Facts
Two-thirds of people in the US are not optimistic about their personal finances in 2022.

Statistics about personal finance and stress show that 87% of Americans are stressed about inflation.

61% of Americans live paycheck-to-paycheck.

68% of Americans can cover an unexpected $400 expense with cash or equivalent.

60% of Americans have a three-month emergency fund in 2022.

Family income varies drastically by ethnicity and race.

56% of parents save for their children's education.

The average student loan debt amounts to $28,950.

Almost one half of teens have never created a budget.

People who plan their finances in a disciplined way reported being happier and sleeping better.
Essential Personal Finance Statistics
31% of people are considered financially healthy in 2022. 
According to the Financial Health Network, the share of the financially healthy decreased by three percentage points compared to last year. Financial health remained stable even at the start of the pandemic. However, as the global economy changes and government help decreases, many people are only now feeling the full effects of the pandemic and economic instability.
(FinHealth)
The financial state of 55% of people can be described as coping.
Statistics on personal finance illustrate that most people are in the financially coping category, which has gained three points compared to the previous year. This category encompasses 139 million people. The share of people who are financially vulnerable has remained relatively stable during the research period coming at 15% or 37 million.
(FinHealth)
Two-thirds of people in the US are not optimistic about their personal finances in 2022.
US personal finance statistics suggest optimism is not the prevailing sentiment among consumers. About half of these consumers report that their main cause for concern lies in record inflation rates, affecting the prices of gas, housing, energy, and food. Other reasons include the pandemic, rising interest rates, personal debt, and wages that fail to follow the price of living.
(Bankrate)
Statistics about personal finance and stress show that 87% of Americans are stressed about inflation.
A survey conducted by the American Psychological Association shows that money-related stress in 2022 is at its highest since 2015. It's been gradually growing in the last several months, affecting younger generations more acutely than others. Personal finance statistics by age group highlight that over 80% of respondents younger than 43 reported deep concern about money, while financial stress gradually decreased for respondents aged 43 and up.
(APA)
Financial freedom statistics show that only seven countries were rated financially free in 2022.
Singapore, Switzerland, Ireland, New Zealand, Luxembourg, Taiwan, and Estonia made the list of financially free countries, while the US ranked 25th. Ranking factors include the rule of law, government size, the openness of the market, and regulatory efficiency, allowing everyone to participate in the system. While this is a global statistic, the effects of financial freedom change the game for all the individuals in a given country and they allow for more perspective.
(Heritage)
Living Paycheck to Paycheck
61% of Americans live paycheck to paycheck.
Financial statistics show living paycheck to paycheck is the dominant financial model in the US. Compared to 2021, the percentage of people who live this way has grown by another 9%. The number is now estimated at 157 million adults.
(PYMNTS)
42% of top earners also reported living paycheck to paycheck.
One of the most shocking personal finance statistics shows just how prevalent this financial model is in the US with 42% of people earning six figures or more reporting this is how they handle their money. The paycheck-to-paycheck lifestyle also includes 36% of those earning more than $250,000 annually.
(PYMNTS)
Almost 80% of Americans earning less than $50,000 a year live paycheck to paycheck.
The largest share of people hitting zero by the end of the month earns less than $50,000 a year, which is probably one of the least surprising personal finance facts. 36.2% of people in this pay bracket that do live paycheck to paycheck struggle to pay their bills, while 43.5 % describe their financial state as comfortable.
(PYMNTS)
40% of Americans earning under $50,000 also have below-average credit scores.
Stats on personal finance show those earning below this threshold have a credit score of 650 or less, with the average coming to 641. On the other hand, credit score rises with income, along with the average number of credit cards and the likelihood of using other financial products.
(PYMNTS)
American Savings Statistics
There was $10.63 trillion in value in all US savings deposits in April 2020.
Since 1980, when the value stored in all depository institutions in the country amounted to $0.39 trillion, there has been steady growth in value. However, it's interesting that around a third of Americans had less than $1000 in their savings accounts, showing that there are significant differences across the population in the amount of money tucked away for rainy days.
(Statista)
The average amount of personal savings decreased by 15% in 2022.
Personal budget statistics show personal savings declined during the course of the previous year from an average of $73,100 in 2021 to $62,086 in 2022. While most Americans improved their financial habits during the pandemic, with a better focus on emergency planning, the survey shows they relaxed a bit in 2022. For example, 95% of respondents said they increased their financial discipline in 2021 in response to the pandemic, while this percentage dropped to 73% in 2022.
(Northwestern Mutual)
On average, Americans saved 5% of their disposable income in July 2022.
Money saving statistics show the saving rate of 5% decreased since the beginning of 2022, from 5.8% in January. The amount of money Americans had saved in July 2022 equaled an astonishing $932.3 billion in July when the data was collected. According to the latest Financial Health Pulse research, the rate hasn't been this low since the recession in 2008.
(BEA)
68% of Americans can cover an unexpected $400 expense with cash or equivalent.
Despite economic volatility, personal finance data shows this percentage has risen compared to previous years and is at its highest since the beginning of this Federal Reserve Survey in 2013. However, this means that almost a third of citizens are in a financially risky situation, and while most would have to sell something or borrow money to cover a $400 expense, 11% say they would have no way at all to pay.
(Federal Reserve)
Only 60% of Americans have a three-month emergency fund in 2022. 
Emergencies are one of the most important reasons for saving money, and statistics show most consumers have this in mind. However, only 60% of people have the means to cover three months of expenses in case of job loss or another unexpected issue. 14% of respondents said they did not have a fund like this, but they could borrow money to cover their expenses. However, 27% of adults couldn't get through three months of income loss by any means.
(Federal Reserve)
Most Americans start saving for retirement because they reach a certain age.
29% of Americans in the survey responded turning a certain age as their main reason for starting to save for retirement. However, statistics on saving money for retirement show employer attitude is the most significant factor in forming a retirement plan, as another 24% stated it was their employer deciding to match their retirement payment. In addition, 22% said it was their employer who started paying for their retirement plan, and another 16% said they were automatically enrolled.
(Statista)
American personal finance statistics show racial and ethnic differences in financial well-being remain apparent. 
When it comes to being financially comfortable, Asian and White adults were pronouncedly better standing than Black and Hispanic adults, with 88% of Asians and 81% of Whites saying they were at least okay. On the other hand, 71% of Hispanic adults, and 68% of Black adults said the same.
(Federal Reserve)
American Family: Financial Statistics
There are prominent differences in family income levels depending on race and ethnicity.
Facts about personal finance are straightforward when it comes to the importance of family income. It matters a lot to an individual's financial security, health, housing, and education. White and Asian adults were significantly more likely to report family incomes higher than $100,000. Also, 43% of Black adults and 40% of Hispanic adults had a family income below $25,000, with these rates being twice as high as those for White and Asian adults.
(Federal Reserve)
For some families, baby-related expenses take up to 25% of their income.
Personal finance statistics suggest that 52% of parents worry about a recession, while 25% of parents choose to have fewer children because of financial worries. Three in four parents also said family finances were a cause of significant stress. On a brighter note, according to the Federal Reserve survey, the enhanced Child Tax Credit is easing some of that stress for a large number of parents with children under 18.
(MarketWatch)
56% of parents save for their children's education.
Financial planning statistics show that saving for education has decreased over the years. Compared to the start of the period during which the measurements were taken, the percentage of parents who saved for their children's education decreased by six percentage points. 
(Statista)
Regarding the price of college, personal finance statistics show the average student loan debt amounts to $28,950.
While people under 34 owe the majority of the nation's student debt, many people are saddled with debt even as they enter their middle age. In fact, most people with debts exceeding $100,000 are those between 35 and 49. Debt doesn't end there, as 2.4 million people older than 62 have student loan debt, showing that the high cost of education affects all age groups.
(Forbes)
Personal Budget Statistics
Statistics about teens and personal finance show almost one half of teens have never created a budget.
Judging by the results of the survey, teens have low levels of financial matters knowledge, but they're eager to learn, with 73% showing interest in improving their financial literacy. Most teens learn about personal finance from Youtube, TikTok, and Instagram.
(PR Newswire)
44% of consumers said they started taking bigger picture risks and emergencies into account when planning their finances.
Budgeting statistics show the pandemic had a significant impact on the way people approach their finances. Although people relaxed a little in 2022, 35% of them still report they reduced expenses and living costs, which is also the main type of financial behavior adopted during the pandemic. Other habits include paying down debts, increased investing, planning with the help of financial tech, and revisiting their plans more regularly.
(Northwestern Mutual)
People who plan their finances in a disciplined way reported being happier and sleeping better.
Statistics on budgeting reveal an interesting connection between planning your finances and reduced stress. While 84% of disciplined planners reported feeling somewhat or very happy, the percentage fell to 68% for informal or non-planners. A similar correlation was noticed in sleeping quality, with 76% of planners reporting good-quality sleep as opposed to 62% of informal planners or non-planners.
(Northwestern Mutual)
Personal Finance Stats FAQ
What are the five most important aspects of personal finance?
What percentage of personal finance is behavior?
How many people actually have a financial plan?
What is the number one rule in personal finance?
Conclusion
Personal finance is a challenge for everyone. However, these numbers show planning and learning will help you improve your financial health and make your life less stressful in the long term. Hopefully, these interesting personal finance facts and statistics have sated your curiosity and helped you on your next step to better finances.
Sources:
Dunja Radonic
Dunja is an English Literature graduate with years of experience as a writer and translator within the financial sector. She loves diving into as many reports and numbers —especially about topics like personal finance that still need some translating to the public. When she's not working, you'll find her running wild with her pack of dogs, playing board games, or bingeing on pop science videos.